A Cranebrook mother busted high-range drink driving with four kids in the car has dodged jail time.
Lisa Caroline Johnson, 34, faced Penrith Local Court yesterday to be sentenced for the offence after blowing more than four times over the legal limit earlier this year.
The court heard authorities were alerted to the mother-of-seven's severe intoxication after a worried principal saw her picking her children up from school.
"The principal of the school was so concerned when she presented to collect the four kids that he's rung police," Magistrate Stephen Corry said.
Johnson, who was pulled over just outside her Goldmark Crescent home on March 8 and subsequently blew 0.212, was found to be extremely unsteady on her feet, swaying and losing her balance several times.
"You were not only a danger to others, but your own kids," an incredulous Magistrate Corry said.
"Your alcohol intake only started in 2013, but it's clearly got out of control."
The court heard Johnson had an otherwise good traffic record with no prior infringements, but Magistrate Corry pointed out she had only held a licence since 2014.
"For your own sake and the sake of her kids, you need to get your drinking under control," he said, acknowledging she had at least made attempts since the incident to address "what's clearly a serious alcohol problem".
"If you don't, it will be done for you," he warned, issuing an ultimatum.
"I want to, Your Honour," a tearful Johnson replied.
She was convicted, handed an 18-month Section 9 good behaviour bond, barred from driving for nine months and ordered to attach a breathalyser interlock device to her car for 24 months following completion of her suspension.
As part of her bond, she is to accept Community Correction's supervision, including any direction to attend detox or residential rehabilitation.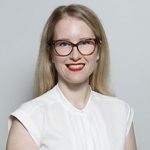 Alena Higgins is the Weekender's Senior News Reporter, primarily covering courts and Council issues.