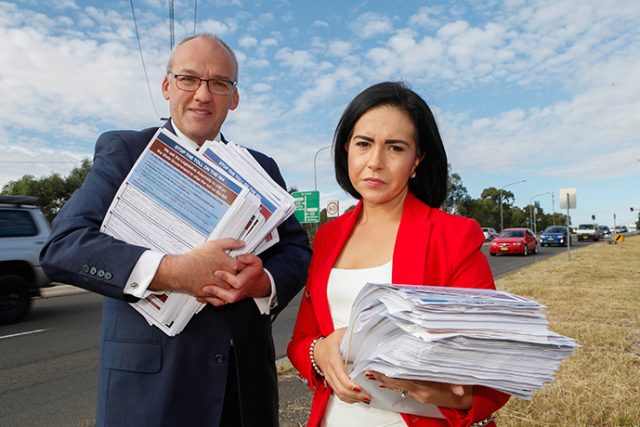 Over 10,000 western Sydney residents have voiced their anger about the reintroduction of tolls on the M4 between Parramatta and Homebush by signing a petition opposing the new charge.
Opposition Leader Luke Foley and Londonderry MP Prue Car will present the growing petition to State Parliament next week, to force a debate on the issue.
Last Friday, Premier Gladys Berejiklian and Minister for WestConnex and Penrith MP Stuart Ayres said tolling will be implemented on the M4 following a one month toll-free period. Tolls were removed from the motorway seven years ago.
"Communities across western Sydney want answers on this," Ms Car said.
"They're angry and furious about the fact that they've already paid for that part of the road, and they're going to be paying through the nose for 43 years into the future."
Mr Foley said that the reintroduction of the toll was unfairly targeted at western Sydney motorists as regular M4 users will face a one-way toll of $4.56, which amounts to $2,188 a year for a motorist travelling to and from work each day, and will force financially struggling drivers onto Parramatta Road and the Great Western Highway.
"We learned on Friday that it's not even going to start at the $4.21 they promised, it's now going to start at $4.56," he said.
"You've got wages growth running between one and two per cent, yet you're going to have this toll reintroduced at $4.56 each way and then going up by one per cent every quarter, four per cent every year all the way out for the next 43 years."
Both Ms Car and Mr Foley have pleaded to Mr Ayres to listen to the people of western Sydney.
"I think people in this part of the world feel really betrayed by Stuart Ayres on this issue," Ms Car said.
"He's got to listen to the people. Stuart Ayres will lose his seat unless he wakes up and listens here," Mr Foley added.
Mr Ayres was quick to bite back, saying that Labor had 16 years to finish the M4 and instead ignored Penrith.
"Once WestConnex is complete you will be able to travel from Penrith to the ANZAC Bridge without passing a set of traffic lights," Mr Ayres said.
He said Labor was too busy talking about roads, while the Liberals were fixing them.
Emily Newton is the Weekender's police and political reporter. Emily is also the Weekender's Senior Journalist.