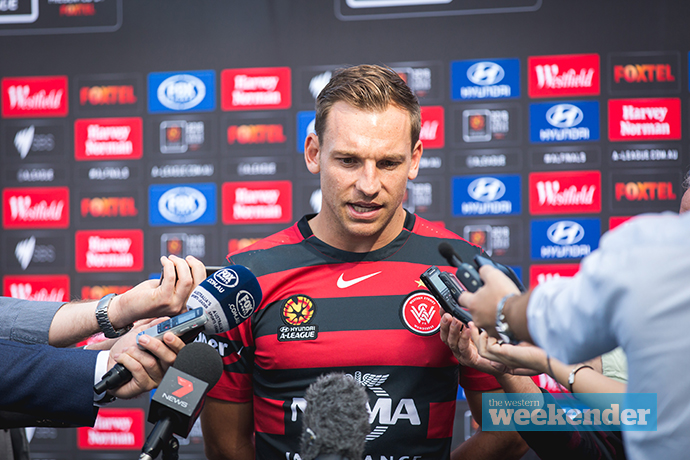 Striker Brendon Santalab has capped off a remarkable Hyundai A-League season by being named Player of the Year at this year's Wanderers Medal.
In what was his most prolific season yet, Santalab broke the Club's all-time goal scoring record, which now stands at 37 goals, and finished the regular season with a Club-high tally of 14 Hyundai A-League goals.
It is the first time the 34-year-old has been named Player of the Year, which is voted by Wanderers players, in his four seasons with the Red & Black.
Caitlin Cooper took home the top gong for the women, the defender being named Westfield W-League Player of the Year in what was her fourth season at the Club.
In an ultra-competitive Westfield W-League season, Cooper led by example at the heart of defence, captaining what was a youthful side to equal the Club's highest ever points tally.
Argentine marquee Nicolás Martínez was another big winner on the night, claiming the Rod Allen Award: Media Player of the Year, as voted by media representatives, as well as the Members' Player of the Year presented by Coffee Emporium, as voted by the Club's 20,021 Members.
Youngster Keanu Baccus won the Foxtel National Youth League player after an impressive season where he also made three Hyundai A-League appearances.
Other awards saw Abdullah Karim named Powerchair Player of the Year, Katie Stengel claim the Westfield W-League Golden Boot, Bernie McLeoud and Lawrence Gilbert win the Chariman's Award for their contribution to football in the community, while William Renton was named Guardian Funerals Wandercrew Volunteer of the Year.
Full list of award winners:
Hyundai A-League Player of the Year presented by NRMA Insurance: Brendon Santalab
Westfield W-League Player of the Year: Caitlin Cooper
Members' Player of the Year presented by Coffee Emporium: Nicolás Martínez
Rod Allen Award (Media Player of the Year): Nicolás Martínez
Foxtel National Youth League Player of the Year: Keanu Baccus
Powerchair Player of the Year: Abdullah Karim
Hyundai A-League Golden Boot presented by Nike: Brendon Santalab
Westfield W-League Golden Boot: Katie Stengel
Chairman's Award: Bernie McLeod and Lawrence Gilbert
Guardian Funerals Wandercrew Volunteer of the Year: William Renton