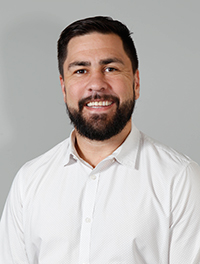 There are not many tougher places to play rugby league than down in Melbourne.
I never won down there in my whole career.
When you play a game anywhere else in the competition, you know you are going to have some fans there. While the Panthers will have some supporters at AAMI Park on Saturday night, they'll unfortunately get drowned out by the home crowd.
Melbourne is a one-eyed town – there are no 50/50 neutral fans down there.
Another reason why it is so tough to win in the Victorian capital is because of the experienced, champion opposition you are coming up against.
You have to be smart with your game plan in Melbourne and last year when we lost there 24-6, I don't think our game plan was suited to the conditions.
When I played there last year and back in 2015, we were out of both of those games in the first 15-20 minutes, just for being off the pace and having a few errors.
Melbourne are a team who are quite happy to lead by 10 points, strangle you out of a game, and then get more points towards the end. Last year wasn't a great experience for me down in Melbourne as it was my last ever NRL game, but it wasn't a tennis match – I wasn't out there by myself.
In Round 2, 2014, when I first played down there with Penrith, we just lost on the buzzer but we had a very good game plan that night.
The plan was to hang with them, don't push any offloads, kick early and run hard – the Wests Tigers showed last Sunday that there might be a platform for that, to really go through them.
The illusion Melbourne create is they want you to go around them, they want you to come up and in, but they also want to race you to the corner post.
For the Panthers this week, they need to remember the game is still and always will be won up front.
Penrith really stood up against the Knights and I thought whilst they have so much talent and skill in the team, the engine room last week showed why that should be their platform for the rest of the year, rather than relying on bits of brilliance from everyone else at certain times.
You want to test yourself against the best teams, and I think Penrith's young guys will want to see how good they are.
The Storm won't be like they were last week, they will try and strangle Penrith out of the game and Cooper Cronk will kick early. The Panthers will want a big scalp on their résumé and I'm tipping them to finally break their hoodoo.