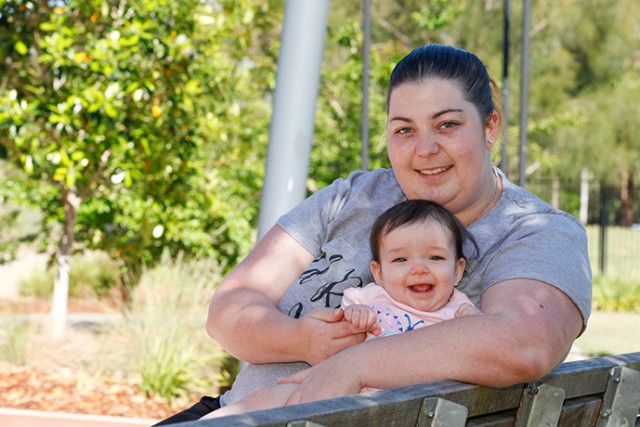 Would you give your baby another mother's breast milk, or express your own to share with other babies?
If the answer is yes, Glenmore Park mother of four Krystal Lyons needs your help to feed her eight-month-old baby Cara natural breast milk.
Ms Lyons doesn't produce half the daily amount of milk Cara needs, and has relied on four different donors since her daughter was two-months-old.
"About two per cent of women cannot produce enough milk to feed their child, and I'm unfortunately one of those two per cent," she told the Weekender.
Instead of turning to baby formula for her fourth child, Ms Lyons has chosen to chase down other mothers willing to share their breast milk until Cara is 12-months-old.
"There's the obvious reason that simply breast milk is better for babies. I'm not against formula, but the benefits of breast milk are just scientifically proven to outweigh formula," she said.
Ms Lyons wasn't aware of donor milk with her first three children, who she said experienced stomach issues when being fed with baby formula.
Now, she has three permanent donors, and is seeking a fourth permanent donor.
"I need to continuously source it. The three women just don't give me enough, so I still need to seek one-off donations," she said.
"She needs 900ml a day, and out of that I can give her 400ml, so I need another 500ml."
It's not surprising that some mothers find it 'icky' or hold concerns about sickness or disease, but Ms Lyon has a message for the critics.
"I know more about the people who donate to me than I do some of my own friends and family," she said.
"I know how many coffees they have a day, their lifestyle, what their diet is like, whether they drink, smoke, exercise, and all medications they might be taking. There is nothing sacred, they tell you everything.
"At the end of the day, it's just mums helping other mums."
NSW mothers are using Facebook pages such as 'Human Milk 4 Human Babies' and 'Eats on Feets' to find other mothers who are interested in sharing breast milk.
For screened and pasteurised milk, organisations such as Mothers Milk Bank takes contributions that go to babies in need at hospitals.