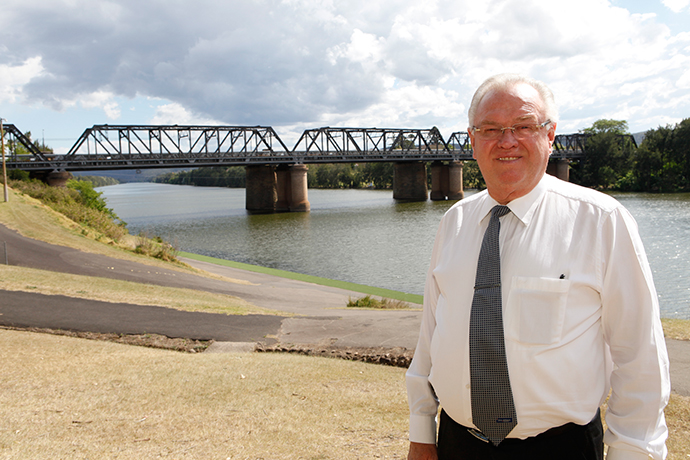 The new airport at Badgerys Creek remains a hot topic in South Ward heading into the Council Election next weekend.
Council has kept the airport at the front of mind when dealing with both State and Federal Governments, and has been heavily advocating for a rail link from the airport through Luddenham, Orchard Hills to St Marys and further north.
With that, Councillors have a huge challenge ahead to ensure the best outcomes for the people of South Ward, many who bought into the area for a quiet, rural and semi-rural lifestyle.
South Ward Councillors are required to balance this focus with the needs of the Penrith CBD, industrial area of Jamisontown, and the needs of families in the residential areas of South Penrith and the enormous Glenmore Park.
Since 2012, South Ward has been in the hands of one Labor Councillor and current Mayor, Karen McKeown; three Liberals in the shape of Mark Davies, Bernard Bratusa and Ben Goldfinch; and Independent, Jim Aitken.
Cr Goldfinch has left politics altogether to spend more time with his family, leaving Cr Davies to be the key Liberal Party candidate for South Ward.
Cr Davies and his young number two, Joshua Hoole, are standing on their own, with no preferences to or from any other candidates in South Ward.
"It's a pretty big field of candidates, so who knows. But at the end of the day obviously it would be great to get Josh over the line to bring in some young blood to Council," he said.
Cr Bratusa has left to run in East Ward, leaving room for East Ward Councillor Maurice Girotto to run in South Ward for the Christian Democratic Party.
Although South Ward now has 35 candidates across seven tickets all chasing one of the five spots on Council, Cr Girotto is not regretting his decision.
"When we looked at it, running in East Ward was going to be a difficult task," he said.
"But half an hour before closing time Jackie Greenow pulled out [of East ward]. If I knew that I would have stayed in East Ward, because on your own it's a hard task."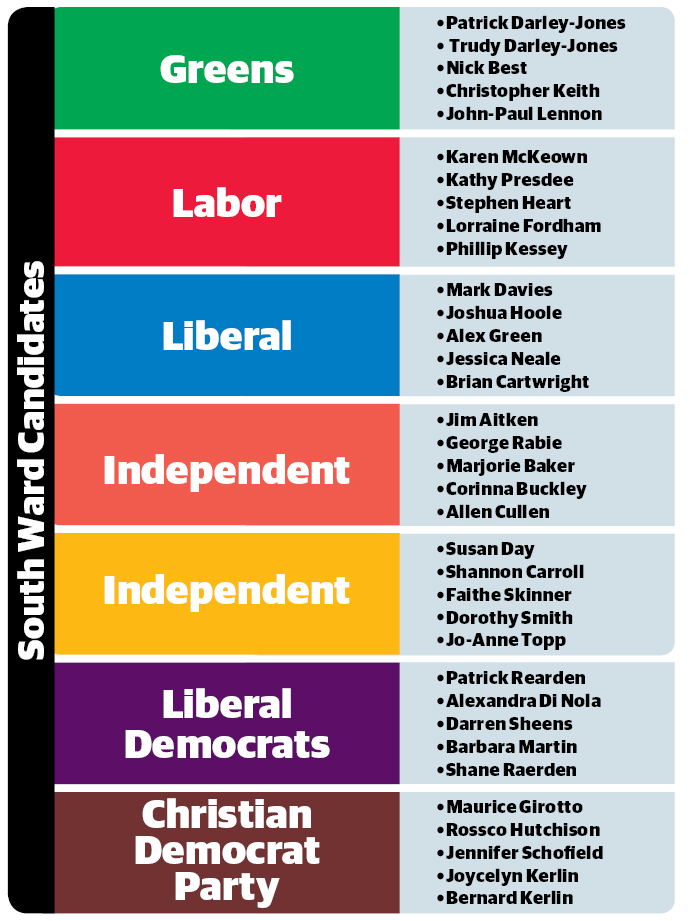 However, he said the Christian Democratic Party has a better chance in South Ward because there is a "generic core vote there", and he has struck a preference deal with Cr Aitken.
Cr Aitken threw his support behind Cr Girotto because he has been forthcoming and consistent in his focus for an honest Council.
"He's been a breath of fresh air as far as transparency goes, no games. I can't say that across the board," Cr Aitken said.
Cr Aitken, who has been on Council for two decades, said Council is going to need to focus on producing a premier airport for South Ward.
"One that's not 24 hours, one that's not going to cause health problems. It's a matter of us doing it right," he said.
"We must take advantage of the opportunities – the best job opportunities, the best places where people want to raise families, the best hospitals and the best education."
Cr McKeown said while South Ward has so many different areas, she has great confidence that people will see good, experienced Councillors running again.
"South Ward includes the city centre, it has the hospital, the residential areas and the rural areas, it's a very diverse ward. It's hard to predict but the voters very rarely get it wrong," she said.
"I would like to make sure my second gets up, because unfortunately we are losing two female Councillors and it would be extremely disappointing to not have that representation given half the Penrith population are women."
Labor is preferencing the Greens and vice versa, and Liberal Democrats are preferencing Maurice Girotto then Jim Aitken.
Independent Susan Day has chosen not to make any preference deals.
South Ward promises to be one of the hardest wards to predict.