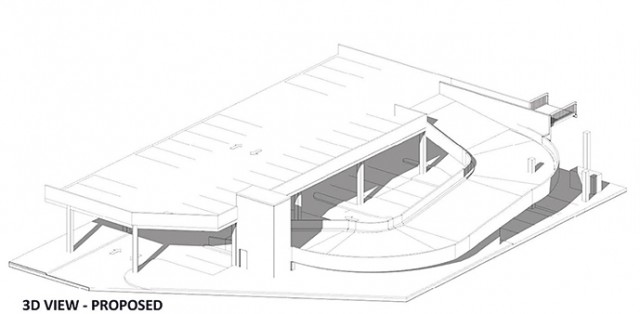 More than 100 car spaces above Trade Secret could be re-opened, if Penrith Council approves the development of new ramps in the car park behind Skiptons Arcade, Welsh Place Car Park.
The car spaces above Trade Secret were blocked off with the closure of the Allen Place Car Park ramps in March last year, leaving businesses to fight for all day parking or be forced to move their cars several times a day.
In April this year the ground-level Welsh Place Car Park was sold, and its new owner plans to lose 20 of the 35 spaces to build a ramp and access a further 22 spaces directly above, and 107 beside those.
The dilapidated Allen Place Car Park ramps will then be demolished, and Council said that could require around 44 spaces to be closed during that time.
"Allen Place demolition would require the 24 spaces underneath the structure to be closed while that is demolished," a Council spokesperson said.
"A site compound will also be required for the contractor's machinery, materials and equipment.
"That may take about 20 additional spaces depending on final negotiations."
The development application has not been approved, so a suitable weekend for the closure of Station Street to remove the bridge sections of Allen Place ramps is yet to be determined.
The timeframe for demolition is dependent on the contractor who is appointed, but Council estimated that around 12 weeks on-site is indicative at this stage.
There has been indication that it's unlikely works will begin before Christmas, to ensure parking spaces aren't lost during peak times. A February 2017 start date has been suggested.
Approving the development and removing the Allen Place Car Park ramps means one less obstacle for Council to develop their city park, which they believe will provide more jobs for locals.
More jobs means more competition for car spaces, but Council insisted they have a plan to consolidate 'at grade' car parks into decked car parks.
It is not known at this stage if there would be a cost to park in the re-opened spaces above Trade Secret.