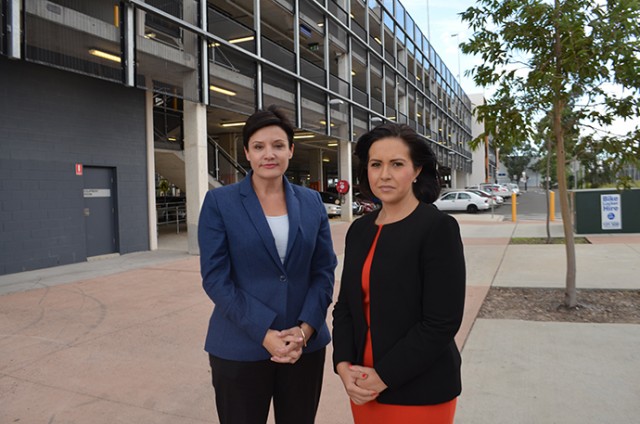 St Marys commuters have the choice to either pay for new tolls on the M4 or pay for increased transport fares – that's if they're lucky enough to find a car park.
With a toll to be introduced to the M4 Motorway from next year, Member for Londonderry Prue Car and Shadow Minister for Transport Jodi McKay want the Government to improve access to St Marys Station.
On Monday, Ms Car said since the construction of the current multi-storey car park in 2010, thousands more people have moved to the area increasing the need for more car spaces.
"Ropes Crossing has exploded in that time, and you cannot get a park in this commuter car park after 7.30am," she said.
"The Baird Government is constantly releasing land in this area… If we want people to catch public transport, let them park their car."
Ms McKay said additions to the St Marys multi-storey car park would be an easy fix.
"It would just be a matter of putting other levels on top of it, it's not rebuilding. The land is here," she said.
The Government has confirmed that the widened section of the M4 due to open mid next year will be a toll way, which Ms McKay said is another blow to western Sydney.
"With the new Opal fares as well, for people of western Sydney [travelling five days a week] it's a 12.5 per cent increase," she said.
The pair are calling on the State Government to provide funding for more car spaces at St Marys Station in the June 21 State Budget.
A spokesperson for Transport for NSW said the Government understands the importance of delivering more parking at train stations for customers.
"Since March 2011, more than 5,800 new commuter spaces have been provided for customers across NSW with a further 7,900 on the way," she said.
She said 300 car parking spaces will be added to Penrith Station, and more planning and design work will be undertaken to see what accessibility projects will be delivered next.
"An upgrade to St Marys car park and other commuter car parks in western Sydney will be considered as part of this ongoing work," she said.