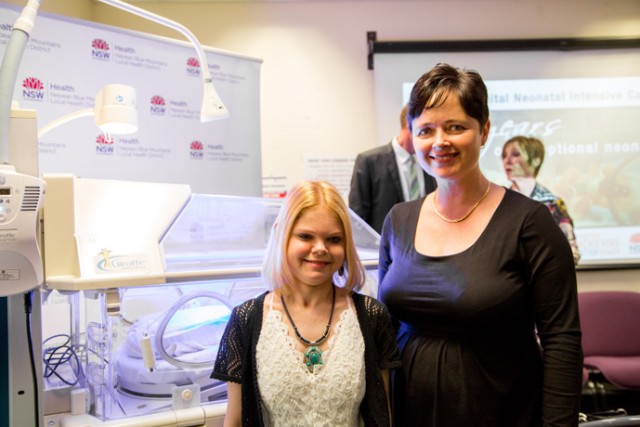 The Nepean Hospital received its 12th neonatal intensive care cot last week, that will provide more vital intensive care for premature newborn babies.
Unveiled on the 25th anniversary of the Neonatal Intensive Care Unit's (NICU) operation, the extra $1.36 million cot will support more of the region's sickest newborns.
The unit now sees 1000 premature babies per year, 10 times the amount admitted over 1991 to 1992.
Neonatologist Dr Vijay Shingde said the extra cot will enable more babies to be cared for locally, closer to their families.
"Spending more time with their baby helps [parents] with bonding and helps to have a smooth transition from nursery to home, and parents get more confident to look after their own baby," he said.
Joanne Ellen was the first mother to have a premature baby in the NICU in 1991, and her now 25-year-old daughter, Rebecca Ellen, marked the anniversary by cutting the ribbon on the new cot.
"We were lucky that Rebecca was able to stay here, because everybody else got shipped out," she said.
"Being close to home is so important, because you can see your baby several times a day. When she was sent to Westmead I'd go there and stay all day."
Ms Ellen was born at 28 weeks gestation at just 875 grams, and spent five months in the NICU.
As part of the NSW Government, Member for Mulgoa Tanya Davies said she is proud to support the work at the NICU, after having experienced a premature birth herself.
"The cost is one thing, but you really can't put a cost on a life… Our first child was in a special care nursery, thankfully she was born just that much beyond needing a NICU bed," she said.
"It is such a relief as a mum in this region to know that there is exceptional service and facilities to meet the needs of our growing region and our families."
Nepean Neonatal Intensive Care Unit Parents Support group will be holding a Mother's Day High Tea in the NICU on Saturday, May 7.
For more information and to support first time mums who will be spending their first Mother's Day in the NICU, contact nnicups@hotmail.com.