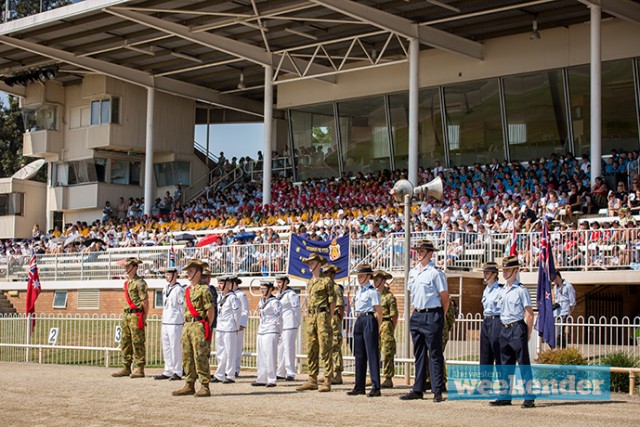 Over 2,000 students filled the stands of Penrith Paceway on Tuesday, for the annual Students ANZAC Service, organised by the Penrith RSL sub-Branch.
43 local schools came to the service to remember those who have served, and those who are currently serving for our country.
While braving the heat, the students sat in silence as the service was carried out.
Event Organiser at Penrith RSL sub-Branch, Peter Todd, said he was proud to be part of such an event.
"It's the best thing that the area could ever have – to have students from around the town all come together to realise, understand and remember what ANZAC Day is all about is fantastic," he told the Weekender.
"It's the most students I have ever seen in one area."
Mr Todd was in the Defence Force for 20 years, never having had the opportunity to serve overseas, but said the day is an important one as his father served in World War II.
"I've only missed one ANZAC Day since I was little so to now be even more involved with it and organising this event, it gives me a great sense of pride," he said.
"It's also great to see so many students here as it shows how many young people really want to show what they think of ANZAC Day."
The service was held prior to ANZAC Day on April 25, and usually is, as the students will be on school holidays on the day.
"Students might not be able to get to a service so to hold this one provides them with an opportunity to remember in the company of their peers," Mr Todd said.
The Students ANZAC Service dates back to the 1960s and is run by the students.
Kingswood High School was invited to have their students run the service with Holly Burcher and Kuini Vaagaau MCs of Tuesday's event.