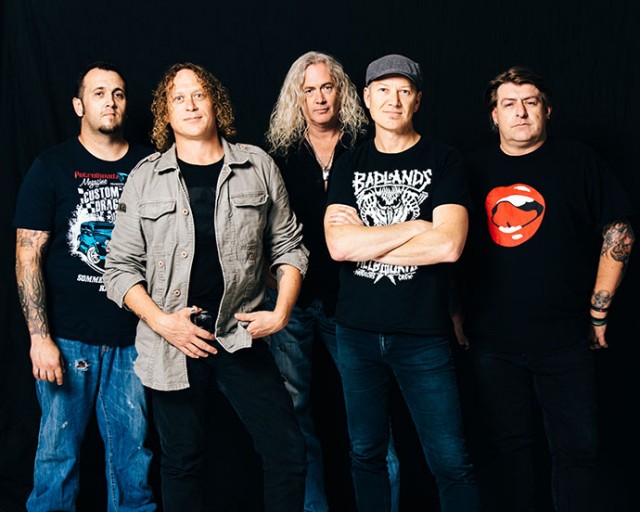 There's not many Aussie bands that are as dedicated to rock as The Screaming Jets.
With 27 years, eight albums, and countless tours under their belt, the band are set to blow the roof off Australian venues once more as they head out on the road in support of their new album 'Chrome'.
While other acts may be happy to focus solely on their back catalogue, for Paul Woseen – bassist, songwriter and founding member – there's really no other option but to keep writing new music.
"We've never been a band who, for want of a cliche, rest on our laurels," he said.
"We're a great live band, and to be a great live band you have to have current material, otherwise you become a cabaret act I think.
"That's fine if you're doing Las Vegas, because you're getting paid a million bucks a show, but we're not in Vegas," he laughed.
The album is a culmination of tracks that span 20 years of songwriting. There's the song that the band tried several times over the years but never quite managed to get right, to the track that was still being written as recording came to an end.
"The lyrics for the first single I wrote the night before the last day of vocals," Paul said.
"I had one day left with Dave in the studio before he had to go do some Angels gigs and so I had to write these lyrics.
"I think Scotty (guitarist) found me asleep with my head on a table, on a book with my pencil still in hand," he laughed.
While Paul was responsible for writing most of the new tracks, it was a team effort to refine and polish the songs ready to take it to the fans.
"Once we all picked the songs we were going to do and we started working on them they no longer became my songs, they became the band's songs," Paul said.
"I'm just stoked that they liked some," he laughed.
The Jets had the chance to test out a few of the new tracks during last year's 'Rock n Roll Rampage' tour, with great results.
"It's always good when you look down at the crowd and you know that this bunch of people have never heard this song before but, by halfway through, they're trying to sing along to the words," Paul said.
The Screaming Jets will be performing at the Rooty Hill RSL on Friday, May 27 at 8pm. Tickets are $45. For more information or to purchase tickets, visit www.rootyhillrsl.com.au or call 9677 4916.