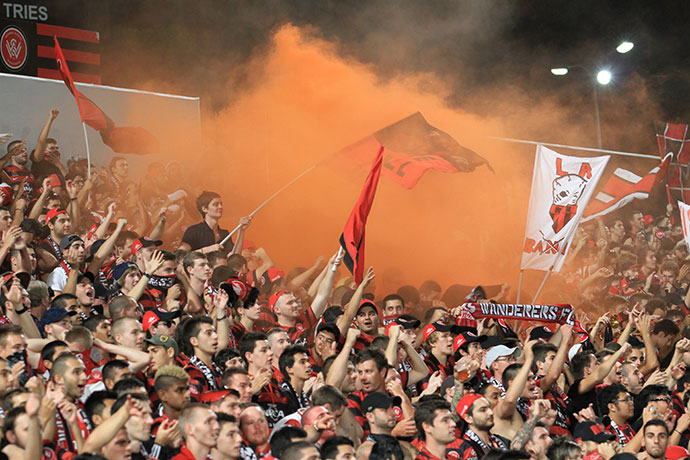 Football Federation Australia (FFA) is set to come down hard on Western Sydney Wanderers supporters who let off flares and railway detonators during Saturday night's clash with Melbourne Victory.
In farcical scenes at AAMI Park, the game between the Wanderers and Victory had to be stopped at one stage because it became impossible for the players to see.
It's an embarrassing scenario for the A-League, with members of the Wanderers' active supporter base continuing to ignore pleas to stop letting off flares.
"The behaviour of some fans and in particular a section of the Western Sydney Wanderers fans at last night's match was unacceptable and will not be tolerated," FFA CEO David Gallop said yesterday.
"FFA is currently compiling all reports from Victorian Police, stadium security and both clubs before deciding what action to take.
"This is a clear reminder of the type of people we do not want in our game and that will be reflected in the final outcomes of our enquiries.
"FFA is currently undertaking a review of the security and banning procedures to ensure a fair process for fans who are identified as misbehaving but will not waver from protecting the safety of spectators.
"Finding that balance during the banning process is central to our review but last night's events should be a reminder that the actions of a minority can damage the reputation and image of the game. That is why we will continue to identify and ban troublemakers."
Wanderers boss John Tsatsimas agreed with Mr Gallop.
"Those who engaged in the display of flare and railway detonator ignition at last night's match have no place in our club," said Wanderers chief executive John Tsatsimas in a statement.
"Let us be quite unequivocal. Those who engage in activity that is illegal, which has time and time again been clearly spelled out as not acceptable in an Australian football venue, do not have our support. You are not part of our club."