Colyton resident Kerry-Anne Peterson is ready to take on the Miss Galaxy Australia Pageant after raising well over $5000 for various charities throughout her career so far.
Supporting the Make-A-Wish Foundation for the upcoming pageant, 19-year-old Miss Peterson said she has been able to gain self confidence by participating in pageants after being bullied throughout high school.
"I know how it feels when people feel they are not good enough and have low self-esteem," she said.
"Being involved in pageants has helped me see a side of myself I never knew existed, and I have gained so much more confidence by doing it."
Miss Peterson has supported and raised funds for charities that work with ovarian cancer research, cerebral palsy research, breast cancer research and brain tumour research throughout her time as a pageant girl, and currently holds two titles.
She hopes to raise over $5000 for the Make-A-Wish Foundation.
"I'm very passionate about charity work and that's the great thing about the Miss Galaxy Australia Pageant, it's very charity-based," Miss Peterson said.
"The other great thing is that there isn't necessarily a 'prerequisite' for this type of pageant, it doesn't matter what you look like or how much you weigh or anything like that – girls can just sign up and help raise funds for charity."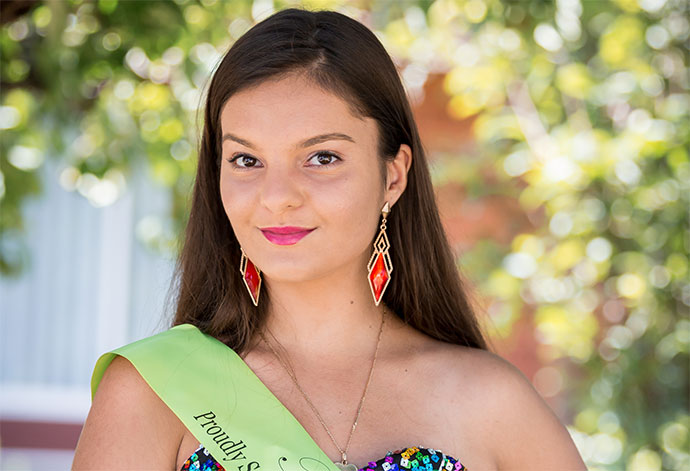 Miss Peterson also added that people shouldn't judge a pageant girl.
"Pageant girls are more than just a pretty face; they are driven entrepreneurs who want their voice to be heard," she said.
"Pageants provide a platform to allow just that."
The bubbly and confident teenager did warn others thinking about entering the industry, however.
"The advice I would give to girls wanting to do a pageant is to develop a thick skin because there can be a lot of judgement coming your way," she said.
Miss Peterson will compete in the Miss Galaxy Australia Pageant early next year.
To support Miss Peterson and donate to the Make-A-Wish Foundation, visit her Everyday Hero website at http://making-wishes-happen.everydayhero.com/au/kerry-anne.