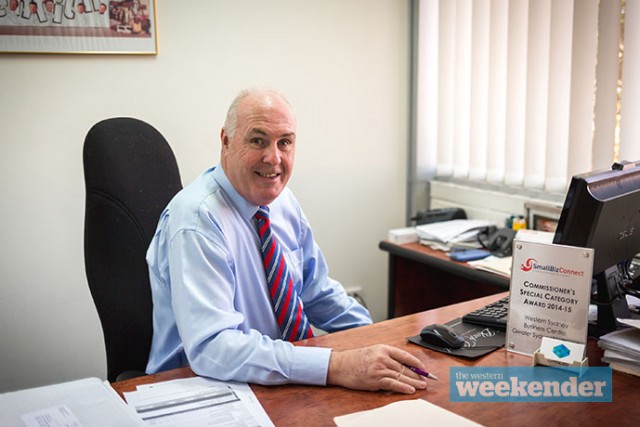 The dramatic siege in Sydney's Martin Place in December last year had a traumatic impact on the hostages, families, police and paramedics involved.
The 16 hour standoff also had a ripple effect on surrounding businesses that lost customers, income and livelihood for the duration of the siege and the days that followed.
In late October, Roger Blane, a Business Advisor at Penrith's Western Sydney Business Centre (WSBC) was recognised for his work supporting these businesses.
Mr Blane said assisting these businesses to get back on their feet was his most rewarding experience since joining the WSBC in 2012.
"A number of the business owners we met had suffered significant losses, including a very busy restaurant about 50 metres away that was closed down mid-morning on the day," he said.
"The restaurant staff were ordered to leave the premises immediately, leaving all their prepared food for a fully booked restaurant.
"The owners of that restaurant advised they lost over $70,000 in food spoilage and lost earnings over the next two-and-a-half days of being closed for trade."
Mr Blane was awarded the NSW Small Business Commissioner's Special Category Award 2014-15 for his volunteer role advising businesses within five blocks of the Lindt Café.
"I was on a team of well over 50 Small Biz Connect Business Advisors who called on hundreds of business owners located in the buildings surrounding Martin Place," he said.
"We gave them reassurance that the NSW Government would be doing everything possible to assist them through this difficult time, registered names for possible financial support and compensation and offered financial guidance."
Mr Blaine said struggling businesses were grateful for assistance that they didn't expect.
"Businesses appreciated us taking the time to listen to their story and were surprised the NSW Government cared enough to send out Business Advisors to help small business owners," he said.
"As a Business Advisor under the SmallBiz Connect business programme we help with business plans, marketing, profit and cash flow improvement, business health checks, all forms of social media and a host of other assistance."