Wollongong's David Mainwaring claimed his first IRONMAN 70.3 triathlon title while Melbourne-based Annabel Luxford stopped Switzerland's Caroline Steffen's winning streak at five in an exciting event in Penrith this morning.
Competitors were greeted with wet roads but generally fine conditions for the IRONMAN 70.3 event.
For the second race in a row young gun Jake Montgomery, also from Wollongong, fell short of recording his first IRONMAN 70.3 win.
In a carbon copy of his day at SunSmart IRONMAN 70.3 Mandurah he lead the race until late in the run, in Mandurah it was Denis Chevrot who claimed the win, today it was the fast finishing Mainwaring, with Nicholas Kastelein (AUS) in third.
"It feels like a long time coming, having never been on the podium at an IRONMAN 70.3 event, to win is amazing. I have been working hard for this for a long time, hopefully, it's just the start," Mainwaring said.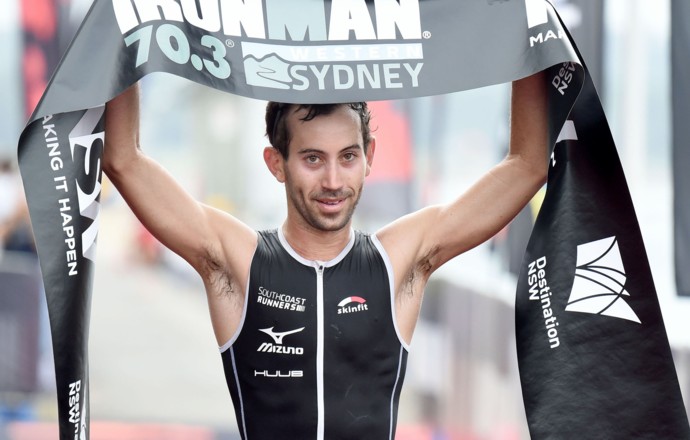 Steffen had her sights set on claiming her sixth IRONMAN 70.3 win on the trot after victories at VNG IRONMAN 70.3 Vietnam, IRONMAN 70.3 Cairns, Cobra Energy Drink IRONMAN 70.3 Cebu, IRONMAN 70.3 Sunshine Coast and SunSmart IRONMAN 70.3 Mandurah, but had to settle for second.
During that streak Luxford finished second to Steffen at both Cairns and Sunshine Coast, but today relied on a strong bike leg to reverse that trend, with Penrith local Andrea Forest in third.
"I'm very happy with that win, I wasn't expecting that performance. The course is fantastic, the weather was ideal for me. Great swim, great ride and you can see everyone on the run," Luxford said.
The women's race started in identical fashion to Cairns and Sunshine Coast with Steffen and Luxford exiting the water within seconds of each other, on the bike they stayed together until the 45km mark.
It was then Luxford made her move and by end of the bike she was over five minutes in front, she then produced the fastest run of the day to ensure she finished on the podium's top spot.
"It has been a great year, and Annabel raced really strongly today, she's a great athlete," she said.
"It is a great course, you can't get lost on the swim and the support on the run was fantastic."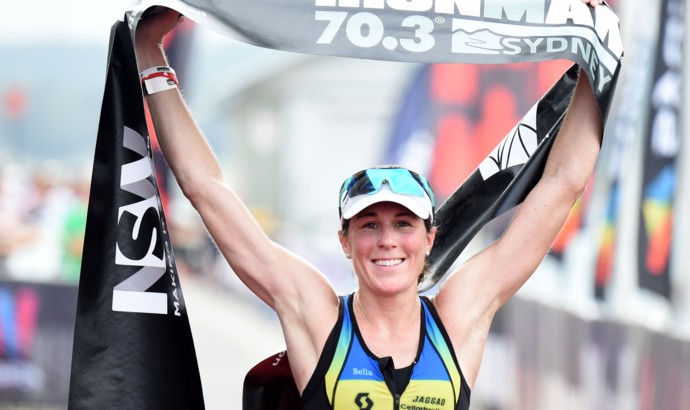 Third-placed Forest was delighted to make the podium in her hometown race.
"That was fantastic, I'll take that third, it feels like a win," she said.
"Every couple of hundred metres I had someone cheering for me I really enjoyed that today."
In the men's race, Kastelein was first out of the water with Montgomery and fellow Aussie Casey Munro hot on his heels.
By the end of the bike leg, Montgomery and Munro had a lead of over three minutes to Tim van Berkel and a large group including Mainwaring, Kastelein, Mitch Dean (AUS), Mark Bowstead (NZL), Bryan Rhodes (NZL) and Mitchell Kibby (AUS).
Mainwaring went on to record a blisteringly fast run split of 1:12:40 to claim his first win by just 24 seconds over Montgomery.
"I'm happy again with second, it was the same as Mandurah again. When he caught me in the last 3km I didn't have another gear," Montgomery said.
"It has been an awesome year, I'm having another crack in Geelong in February so hopefully I can go one better there."
"I am definitely focussed on IRONMAN 70.3 racing from now on."
PROFESSIONAL MEN'S RESULTS
1. David Mainwaring (AUS) 3:48:24
2. Jake Montgomery (AUS) 3:48:49
3. Nicholas Kastelein (AUS) 3:50:19
4. Tim van Berkel (AUS) 3:51:36
5. Mitch Dean (AUS) 3:52:20
PROFESSIONAL WOMEN'S RESULTS
1. Annabel Luxford (AUS) 4:08:29
2. Caroline Steffen (CHE) 4:14:29
3. Andrea Forest (AUS) 4:20:37
4. Gina Crawford (NZL) 4:23:21
5. Michelle Bremer (NZL) 4:26:37