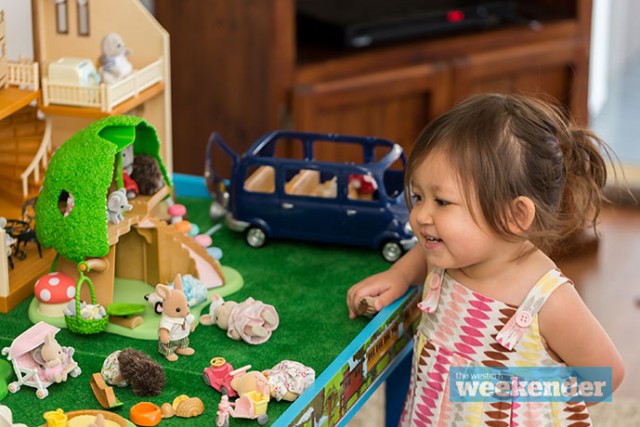 Jenny Wainwright and her two kids, Thomas, 4, and Thalia, 2, could almost be Australia's biggest fan of Sylvanian Families.
The Emu Plains family have spent almost $2000 in the last three years building their collectable toy range of animals, doll houses and furniture, even down to the tiny knives and forks.
Mrs Wainwright, 34, started the collection for her daughter about three years ago when pregnant with her, but fell in love with them herself.
"When I started buying them I got a little bit obsessed. They are so cute so I bought more than I intended to, but now we have quite a collection we can slow down," she said.
With her collection sitting at around 1000 pieces and counting, Mrs Wainwright has entered to be 'Australia's Biggest Fan of Sylvanian Families'.
The detailed collection started in Japan in 1985 and is designed around 1950s rural Britain, with various series including grandparents, seaside, grand hotel and schools.
"It's very detailed, everything is so realistic and miniature, I am blown away by how they can make something so small but so detailed," Mrs Wainwright said.
"My daughter is only two and the pieces are so tiny so I pack away all the accessories and let them play with the larger items. When they get a little older they can play with the tiny forks."
Through her children, Mrs Wainwright is fulfilling her own childhood fascination.
"I knew about them when I was younger but my family could never afford to buy them," she said.
"I want my children to enjoy them as much as I did when I played with them at my friends' places."
And enjoy them, they do.
"I'm glad they love them," she said.
"They love being able to act out everyday situations like having dinner, watching TV, driving to the supermarket and seeing the doctor.
"Thomas especially loves taking his animal friends on holidays in the caravan and Thalia loves sitting the families down for dinner."
Sylvanian Families is currently celebrating its 30th birthday, and is looking for the country's biggest fan. There is a $2000 cash prize for winning – the cost of the Wainwrights' total collection so far.