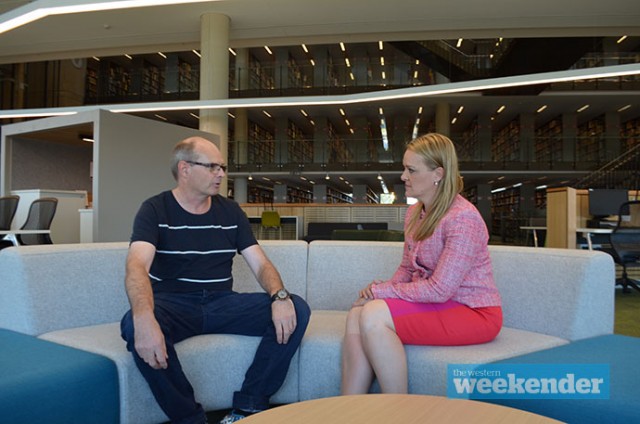 Glenmore Park resident and Western Sydney University Associate Professor Bruce Crossman is embarking on a mission to link Australia and Japan through music.
Associate Professor Crossman secured an Australia-Japan Foundation grant that will enable him to take up a week-long residency at Aichi University of the Arts.
He hopes the trip from December 11 will begin to build stronger ties with the university and its Professor Akira Kobayashi.
"I would like Professor Kobayashi to bring his students to Western Sydney University, and then for us to go over there longer term. We have a similar Asia-Pacific attitude to music," he said.
"There's a number of us in the Asia-Pacific who want to try and make music for the region.
"It's a different aesthetic [to European music], the way we think is different, so if we are getting like-minds sharing our aesthetic then we can enrich each other."
Associate Professor Crossman, who is a pianist himself, has recorded sounds from going on runs in Glenmore Park, and was inspired to use them in his work to share with Japan.
"I've got a 15 minute composition that I've written for them, and that will be really exciting to get some feedback from them. It's solo harp, and they will have a harpist there," he said.
"My work for Aichi, 'Emergence of Darkness' for solo harp, draws on the colour and vibrancy of Japanese court music, Gagaku, as well as koto, a type of lute energy gestures."
As well as presenting his composition, Associate Professor Crossman will interact with staff and students at Aichi as a mentor and rehearse works for Japanese performers.
"It will be good to learn more about these ideas in the heart of culture – Japan," he said.
Associate Professor Crossman met with Federal Member for Lindsay, Fiona Scott who congratulated him on securing the $1456 grant for his project.
"Associate Professor Crossman's project, which focuses on the arts, will open up so many doors for our future researchers, students and entertainers," she said.
"The Australian Government recognises the importance of connecting with its partners to support Australia's ongoing social, cultural and economic growth."
Ms Scott said it was fantastic to see such a connection on an individual level.
"It also generates important people-to-people links that underpin Australia's research, trade, investment and social engagement with the world," Ms Scott said.