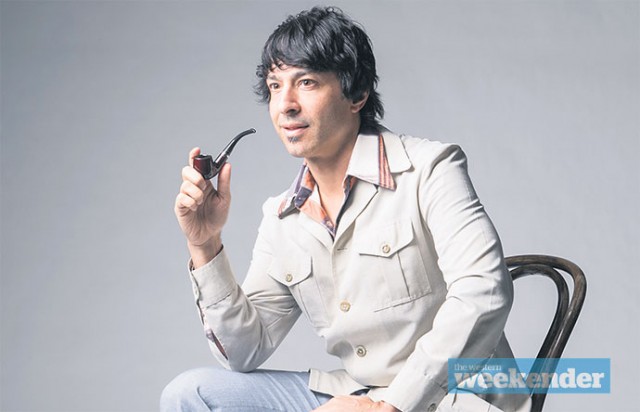 While most people know Arj Barker as the American/honorary Australian comedian, there's another passion in his life besides stand up.
"The thing I probably derive the most pleasure from is making music, I mean aside from stand up," he said.
"I love being a stand up but I'm living that dream already. I'd like to get more involved with music."
Arj has already dipped his toe in the music pool with his 2009 track 'Sickest Buddhist' which he describes as "spiritual materialism satire".
The stand-up comedian and actor is also well known for his role as Dave in the hit TV comedy series 'Flight of the Conchords', where he appeared on tracks including 'Sugar Lumps' and 'Too Many Dicks on the Dancefloor'.
"Anything dick and balls I was the go-to guy," Arj said.
It's this 'Flight of the Conchords' song style, which blends quality and humour, that Arj most admires.
"To me, their music is so listenable, you could listen to it just musically speaking," he said.
"In fact some of those songs are down right beautiful but also quite funny. They don't sacrifice listen-ability for comedy."
Along with working on his music, and developing a new TV show, Arj is currently on a national tour that will see him perform at the Evan Theatre in Penrith on Saturday, November 14.
This new show, 'Get In My Head', has had audiences around the country in stitches.
"The only complaints I get from this show is that their cheeks hurt from the workout they're getting, and I mean the cheeks on their face," Arj said.
While his style of comedy involves a little of everything, Arj admits that toilet humour does seem to creep its way in there, even if it is not always intentional.
"I have that really immature sort of streak in me, but I don't say 'oh today I'm going to write a joke about diarrhoea'," he said.
No matter how old we get this juvenile style of humour never seems to go out of style, and Arj believes it's all down to universality.
"They're funny because they're slightly unpleasant but they apply to everyone on Earth," he said.
"A lot of comedy comes from tragedy. Every time you fart that's a tiny little tragedy isn't it?"
This theme has extended to the animated series about Arj and his cat Poopy, aptly titled 'Arj and Poopy', which the comedian developed with animator Bernard Derriman.
"The very first episode he just took the audio off of a clip that was online and animated it," Arj said.
"So before we'd even met he'd made an episode."
While there's not much Arj isn't willing to joke about, surprisingly he does tend to stay away from the obvious comedic targets within the political arena.
"Sadly with the quality of politicians being produced these days you almost don't need to make fun of them because they make fun of themselves for you," he said.
"It would almost be redundant to make Abbott jokes or George W. Bush jokes because the situations that they produced themselves almost don't need any additional comedy."
'Arj Barker – Get In My Head' will be on at the Evan Theatre on Saturday, November 14 at 8pm. Tickets are $46.60. For more information or to purchase tickets call 4720 5555.