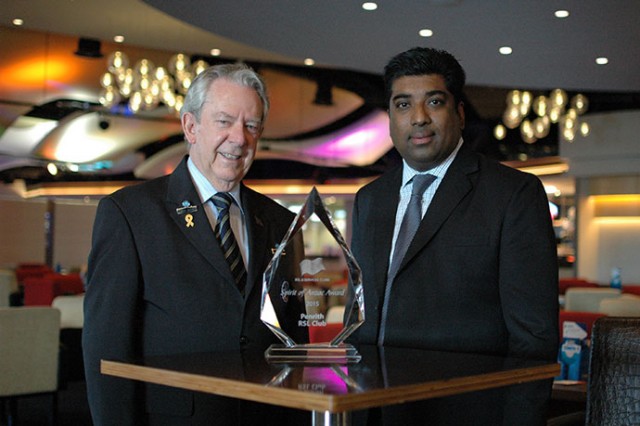 Penrith RSL has won the 2015 RSL & Services Clubs Spirit of ANZAC Award at the 14th Annual Conference in Canberra.
This is the first time that the Penrith RSL has ever won the award, which recognised the outstanding contribution throughout the year to its members and the local community which epitomises the sacrifices of those who served in the defence of the nation and in the traditions of the ANZACs.
Director, Frank Portelli was also recognised for his contribution to the community as a finalist for the the Outstanding Community Member Award, along with Kokoda Youth Leadership Challenge participant, Max Duignan, who was a finalist for the Spirit of Kokoda Award.
Penrith RSL Chairman, Neville Barnier, said that this large amount of recognition was well deserved.
"Our members and local community are everything to our club. Our growth and reputation can be attributed to our tireless work and support for our community because without the mutual relationship, we would not prosper," said Mr Barnier.
"On behalf of myself and the Board of Directors, I would like to congratulate our CEO Neel Chand for his leadership and direction along with all staff at our Club for their contribution towards this significant recognition."
Neel Chand, CEO of Penrith RSL, said he is very proud of his team and all community partners that have helped make this award happen, with the Club supporting many important initiatives throughout the last year.
"We are so proud to win this award, especially as we are celebrating the centenary of the ANZACs landing at Gallipoli this year. Our staff make us a leading community club, continually offering a diverse range of excellent services and activities in a safe and friendly environment," Mr Chand said.
"From our record breaking ANZAC day, to our strong sub-branch, the Kokoda Youth Leadership challenge, the RSL LifeCare Homes for Heroes Project, the Max Potential Project helping many students achieve their goals through mentoring, the list goes on and on. We are immensely proud of our community work.
"Penrith RSL has experienced unprecedented growth recently and is in a very strong position to continually build on efforts of the past. I would like to thank every one of our valued members and community partners because this award is shared with all of them."