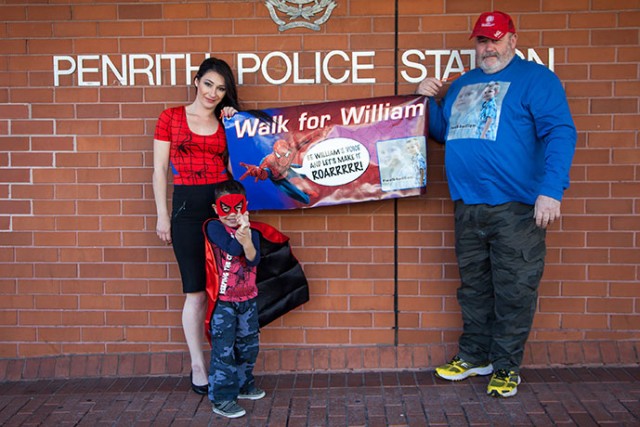 Over 500 locals will be taking to the streets of Penrith this weekend to 'Walk 4 William'.
Missing toddler William Tyrrell disappeared from his grandmother's home at Kendall on the state's mid-north coast on September 12 last year.
There are over 200 'Walks 4 William' and over 250 organisers of various events across the country.
The nationwide campaign stems back to the vision that Glenmore Park resident Karen Boland had just eight weeks ago while watching a news report on the toddler.
"Police were explaining how they thought William was still very much alive," Ms Boland explained.
"It's come to the point where it's either we do something or we don't.
"It has just really hit home for me – we're talking about an innocent child and something needs to be done."
Father-daughter duo Steven Cameron and Hayley Biegel have worked tirelessly to get the Penrith walk to happen.
"I want to help because I have two little boys and I know how devastated dad would be if they disappeared while in his care – I don't know who can't be upset about the William Tyrrell case," Ms Biegel said.
"I've had enough of innocent children having their lives disrupted like this, I want to help create awareness. Someone out there knows the truth about William," Mr Cameron added.
There are now over 30 local businesses who have donated prizes to the cause or will be participating in the walk
This week, detectives put out a public assistance notice to help identify several vehicles that were parked near or were travelling past the scene at the time of William's disappearance, a developing new lead in the case.
"We don't expect people to dig into their pockets for this; we're just asking for people to show their support and walk for William," Ms Biegel said.
"In a short amount of time a lot of awareness has been made and a lot of people have said they will walk on Saturday which is fantastic."
Locals are encouraged to wear a Spiderman outfit, William's favourite superhero, or red and blue in support of the toddler.
Businesses along the walk will also display red and blue balloons and streamers to show their support for the event and for finding William.
A Facebook page has been set up for the event under 'Walk 4 William – Penrith & Glenmore Park'.
"This isn't the last thing we are doing – the next step is to have billboards of William's face up in every community," Ms Boland said.
The walk will start at Penrith Police Station tomorrow, Saturday, September 12 at 10.30am.
– Jade Aliprandi