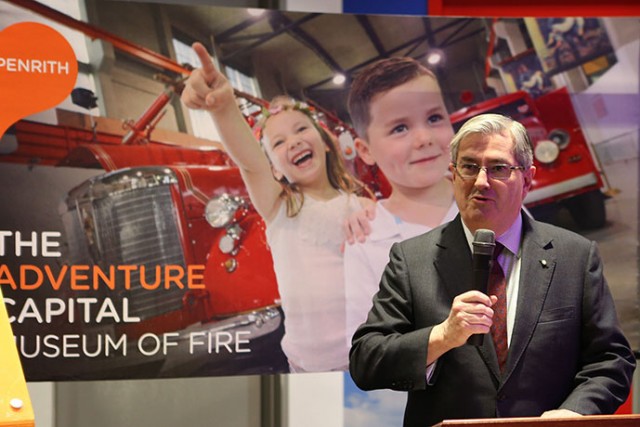 An exciting era of marketing Penrith as a visitor destination has begun, with the launch of a new tourism website www.visitpenrith.com.au and awareness campaign by Penrith Council.
Penrith Mayor Ross Fowler shared these initiatives at an event last night, attended by local tourism operators, industry stakeholders and politicians.
It follows a story in The Western Weekender last month that revealed a major plan to promote Penrith as a tourist destination.
Cr Fowler said the new website, social media sites and Visitor Guide have been branded as Visit Penrith to strengthen the image and appeal of the region, while the three-month advertising campaign aims to connect people to the adventure experiences in Penrith.
"The new website is dynamic, engaging and delivers a personalised experience. It invites people to choose what sort of adventure they're after or what location they want to visit and then provides tailored activities, events and attractions to them," Cr Fowler said.
"The website also connects to Visit Penrith Facebook, Instagram, Twitter and YouTube sites, encouraging visitors to upload their own photos or videos, post comments and share their adventures using the hashtag #visitpenrith.
"The advertising campaign includes a mix of radio, online and outdoor promotions which speaks to the adventurer inside all of us. The eye-catching imagery and thought-provoking messages will direct people to visit our new website, and hopefully we can then convert this website traffic into foot traffic across the city," Cr Fowler said.
This new way of marketing and promoting the city was identified in Penrith's Destination Management Plan (DMP) as an opportunity to significantly boost the number of visitors to the area.
"The DMP was developed, in consultation with local stakeholders, to help us achieve our target of doubling visitor numbers to Penrith by 2025. It's essentially a road-map for us to follow to ensure our local visitor economy continues to grow and thrive," Cr Fowler said.
"We've now got the framework to guide our decisions moving forward, the collateral to support our objectives and most importantly the attractions, events and features which set us apart from other destinations.
"Penrith offers a range of adventure experiences from white-water rafting to indoor skydiving, kayaking on the Nepean River to touring a sake brewery, bushwalking to strolling through museums and galleries. There really is so much to see and do here, it's time to Visit Penrith."
To view a 30 second video on Penrith, the 'Adventure Capital', click here.