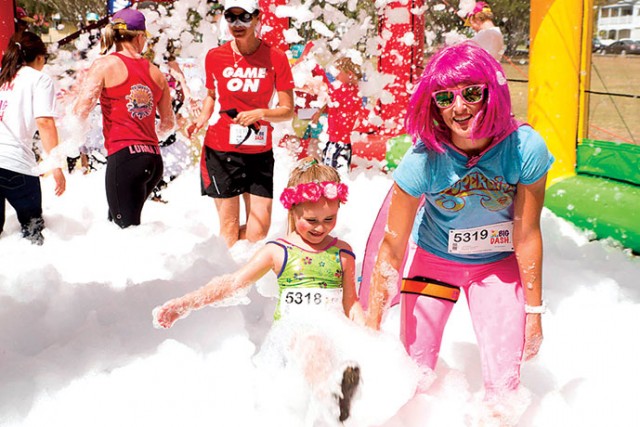 More than 6000 parents and children are set to take part in an obstacle adventure full of colour, fun and guaranteed laughs when Little Big Dash is held at the Sydney International Regatta Centre this Sunday, August 23.
This new, fun event will feature teams of two to six people exploring 10 colourful obstacle stages together including dancing through the Donut Dash, dodging the Big Blob Balls, navigating through the Bubble Blast, tackling the giant Rumble Tumble Tower and enjoying a new inflatable Footy Frenzy stage.
Former Australian fast bowler Brett Lee said he was delighted to be the ambassador for Little Big Dash.
"I love being a big kid and this event gives me the opportunity to live in the moment and release that inner-child while having heaps of fun helping a parent-child team through each stage," he said.
"There will be prizes for dressing up, so we encourage all 'Dashers' to find some fun and quirky matching outfits to wear."
The event is created to be completed in family teams with kids taking part to be aged between five and 15-years-old.
At the end, 'Dashers' will collect their souvenir shirts and stamp them with their hand prints, creating a unique memento of their adventure.
"What a great way to spend a Sunday morning with your family," Lee said.
"As Dashers enjoy the carnival atmosphere, they will be left smiling with elation from a great time shared."
Little Big Dash officially sold out last week but is expected to return next year after record numbers registered to participate.
The event is also held in Brisbane where it is just as popular.
– Nathan Taylor