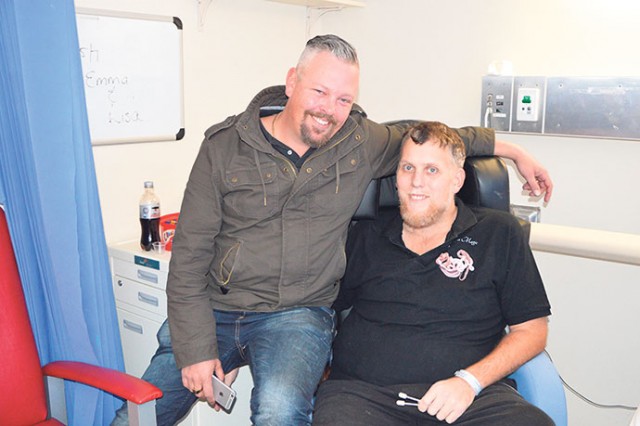 Best mates Troy and Grant would normally enjoy a beer together, but in July, Troy did just the opposite and dumped the drink altogether.
Grant Rothwell and Troy McDonald have been friends for over 20 years, but last September, Grant was struck down with a rare cancer, soft tissue sarcoma.
"We met at Cambridge Park High School, we were partners in cooking class and have been inseparable since," Mr McDonald said.
"He was the best man at my wedding, he is the Godfather to my eldest daughter and we haven't gone a day without talking for the last 15 years – no matter how busy our lives got, we were always there for each other.
"They found a lump in his chest that was an extremely rare form of cancer that only one in 10 million people get."
Mr McDonald said a spate of unfortunate events around the time of Mr Rothwell's diagnosis made a hard situation even harder.
"He found out he had cancer, lost his superannuation, got told to move house, and found out his mum has cancer – it cut him to pieces," he said.
To help his friend, Mr McDonald joined Dry July to raise money for the Nepean Cancer Care Centre (NCCC) at Nepean Hospital where Mr Rothwell received treatment.
However, Mr McDonald hadn't gone more than two days without alcohol for years, and said going cold-turkey was a huge accomplishment.
"My doctor told me I should cut down on drinking, but the only person that can get me to change my ways is Grant, I did this for him," he said.
"I personally wanted to raise $10,000 and even though I haven't reached the magic figure, I'm coming third in NSW and fifth in Australia, and Grant's proud of me."
Mr McDonald raised over $8,000 and Mr Rothwell said the efforts were unbelievable.
"In my wildest dreams I didn't think he could do it. He's done great, I'm really proud of him," Mr Rothwell said.
The NCCC has its own Dry July team, the Nepean Cancer Carers, who have raised almost $19,000, leading the way nationally for workplaces.
Donations are still open until August 31 and can submitted via www.dryjuly.com/profile/troymcdonald.
– Dale Drinkwater