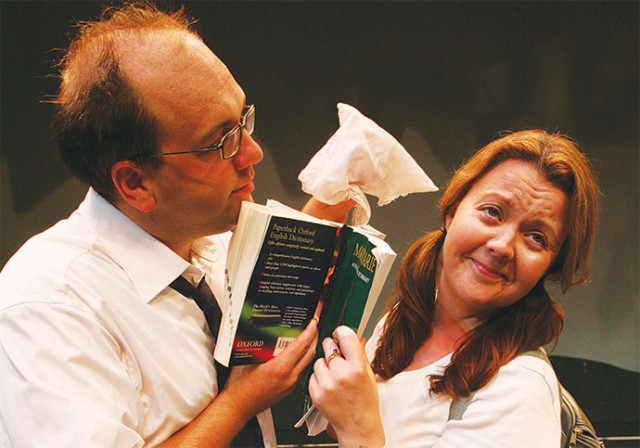 Ever been to see a theatre production and thought, 'I'd really love to be up there'? Well, now's your chance.
The Penrith Musical Comedy Company will once again be bringing the Tony Award-winning musical comedy 'The 25th Annual Putnam County Spelling Bee' to The Joan and audience members will have the chance to join in on the fun as fellow spelling bee competitors alongside a cast of six actors.
"We actually get four people from the audience to sign up to be in the show," explains Penrith Musical Comedy Company President, Grant Jones.
"They don't know what happens and we as the actors tell them what they need to do throughout the show.
"Each show is different which is exciting as the cast don't know who the audience spellers will be and lots of improvisation occurs depending on what the audience spellers do."
It's this audience participation that made the production such a success when the Penrith Musical Comedy Company first brought it to The Joan stage in 2011. It did so well for the company that Grant knew they had to bring it back.
"We only did six shows last time and after that people enjoyed it so much that they were hoping one day we'd put it on again," he said.
The show is set at the fictional Putnam Valley Middle School where a cast of six very different children are competing in a spelling bee. Each of the characters has their own little quirks and stories to tell as they each set out to take the title of top speller.
"You get taken on a bit of a journey with these kids," Grant said.
"The audience sort of embraces the show… they just love it."
Adding to the story is the unknown element of the audience spellers.
This mixture of fun storyline and improvisation has made the show comedy gold and a hit with audiences around the world.
For the Penrith production the majority of the 2011 cast will be back, along with a couple of new faces.
Rehearsals for the show are well under way and for Grant it's been fun rediscovering characters, acting like a kid again and being back with fellow musical theatre enthusiasts.
"It's like sitting in a room with a whole bunch of friends, just having fun," he said.
For this production Grant takes on the character of William Barfee, a child that he describes as being not so easy to get along with.
"He's a painful child," Grant laughed.
"That's probably the easiest way to describe him. He doesn't have any friends and he learns to be nice to people."
2015 has been a great year for the Penrith Musical Comedy Company with a successful production of the rap, hip hop and salsa infused Tony Award-winning musical 'In The Heights' premiering earlier in the year.
The show follows a cast of characters from the predominantly Dominican-American neighbourhood of Washington Heights in New York where bodega owner Usnavi is chasing the American dream.
"It went fantastically," Grant said of the show.
"Audiences just embraced that show as well and absolutely loved it."
From the success of the 2011 show, there's no doubt that 'The 25th Annual Putnam County Spelling Bee' will be another great success for the theatre company which has been bringing quality musical theatre to Penrith for decades now.
As for the 2016 season, there's no confirmation on shows just yet but watch this space, because Grant has plenty of ideas up his sleeve.
'The 25th Annual Putnam County Spelling Bee' will be on at The Joan from Friday, July 31 to Saturday, August 15.
Performances are on at 8pm each Friday and Saturday night with an additional 2pm matinee on Saturday, August 8 and 15. Tickets are $20-$35.
Audience members who would like to be part of the show can sign up before each performance. Four people will be selected to participate in each show.
For more information on the show or to purchase tickets visit www.thejoan.com.au or call 4723 7600.
– Kate Reid