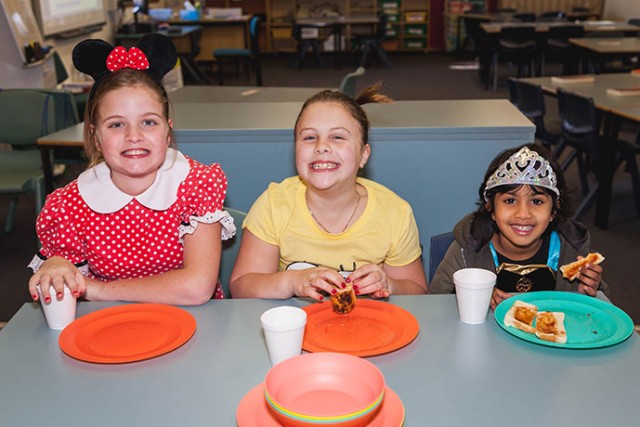 Half of NSW/ACT primary school students are skipping breakfast every week, so one local public school has decided to fight back against this worrying food trend.
The statistics, commissioned by the Australian Breakfast Cereal Manufacturers Forum, indicate that 47 per cent of NSW/ACT parents said their primary school children skip breakfast every week.
From this term, Cambridge Gardens Public School school is battling against these scary statistics, by providing a daily breakfast program for selected students.
Year 4/5 teacher, Daniel Attard, said over three days, teachers creatively asked students to identify items they had for breakfast – and found several had no answer.
"We got the information directly from them, and through knowledge of the students like how they work in class, and if they are getting tired early," he said.
"Knowing your students and how they work in the classroom is really important. You can definitely see the difference between the ones that have had a good night's sleep and breakfast, to the ones that don't."
The program fills the tummies of around 10 students from kindergarten to Year Six, who Mr Attard said don't eat breakfast on a regular basis.
"If open to the whole school, some kids might take advantage of the program because it's an easier way to access breakfast," he said.
"Rather than double up, we'd like to offer breakfast to people who don't get it."
Statistics show that 65 per cent of NSW/ACT parents find it a challenge to get children to eat breakfast, due to lack of appetite or fussy eaters.
"Many children say that they just didn't have time, they weren't hungry earlier, and some of them don't feel like breakfast," Mr Attard said.
Child Nutrition Expert, dietitian Kate Di Prima said these figures are alarming, as children need food and energy in the mornings to take on the day.
"The primary school years are the most crucial for in establishing routines and healthy dietary habits," she said.
"While parents are desperately trying to do what's right, they're often pressed for time and completely confused as to what's good for their children."
The program is sponsored by Kingswood IGA until the end of the year, and Cambridge Gardens Public School said without their generous donations it wouldn't be able to continue.
– Dale Drinkwater