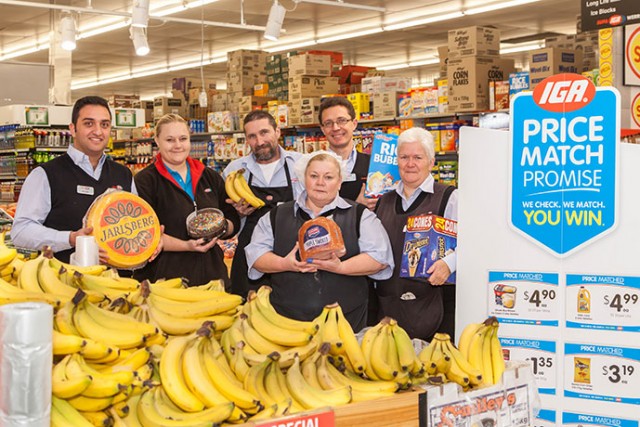 SUPA IGA team members at Werrington County are welcoming new customers to the store with the introduction of a price match system across the board at all IGA supermarkets.
Although SUPA IGA Werrington County has been running the price match system for the past two years, it is only now that co-owner Antoine Rizk is seeing an increase in customers.
"More people are purchasing more items at the store and it has only been two weeks since it started being advertised," Mr Rizk said.
"It's well overdue that every IGA is adopting this system as we have been running it for two years – we should see some real progress within our store now."
The Price Match Promise initiative will see independent retailers under the IGA banner price matching hundreds of everyday items representing significant savings for locals.
Over 800 stores are participating in the campaign.
"There is basically every other supermarket chain you can think of around our store so to now have the Price Match Promise advertised, our store should see an even bigger influx of customers," Mr Rizk said.
"We've always had the best quality fruit and veg as well as our deli selection, so to have price matching on other basic grocery items is great too."
In further good news for the independent supermarket chain, two cents from every sale of an IGA Signature product is donated to IGA Community Chest, with over $75 million raised to date.
"Customers should support local supermarkets as they are a part of their local community," Mr Rizk said.
"Our staff are locals and we as a store take part in several community activities from fundraising to sponsoring."
Other local IGA and SUPA IGA stores taking part in the Price Match Promise are IGA Claremont Meadows, IGA Colyton, IGA Cranebrook, IGA Kingswood, IGA Luddenham, IGA Penrith Nepean and SUPA IGA Erskine Park.
– Jade Aliprandi