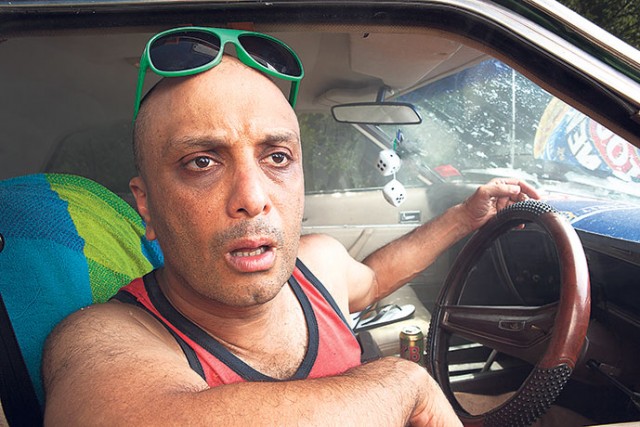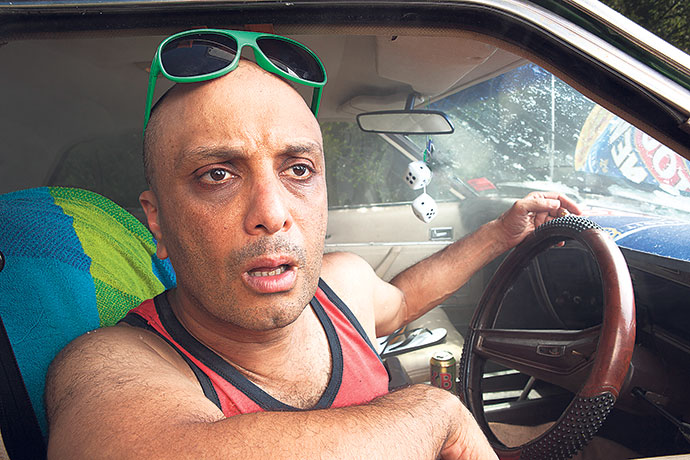 Not many people can say they've experienced 500 horny women throwing plastic cups at them, but comedian Akmal Saleh admits that angry audiences are just a part of the job, and an unfortunate side effect of being booked as the opening act for a male revue.
"It was just the wrong act for the crowd," Akmal laughed.
"That's the thing a lot of people don't realise is that comedy's like music.
"It's so varied in style and varied in taste… what you may find funny someone else may not find funny at all."
Luckily for Akmal there's plenty of people that find him very funny indeed.
His popularity has led to appearances on TV shows including 'The Footy Show', 'Thank God You're Here' and 'Spicks and Specks', his own radio show on Nova Melbourne and Sydney, countless awards including an ARIA for his DVD 'Live and Uncensored' and performances at some of the world's biggest comedy festivals including Edinburgh.
The Egyptian-born comedian originally found his connection with the world of comedy at an early age.
"I was obsessed with it. At school when people would listen to music I'd listen to comedy albums," he said.
"I kind of connected with the comedians more than any other people, any other society, any other community, I felt at home."
He spent hours listening to and watching comedic heroes including Richard Pryor, George Carlin, Steve Martin and Monty Python.
"When I first heard their albums I just thought 'my God, where'd this come from'," he said.
"It was almost like I'd been waiting for it, I'd been waiting to hear it, these adults acting like children in the most brilliant way."
Akmal originally immigrated to Australia from Egypt in the 1970s at the age of 11.
Much of his childhood was spent moving around due to his father's work requirements.
One of the first things he remembers noticing when the family arrived in Sydney was how empty it was compared to Cairo.
"We pretty much overnight went from possibly the most over populated city in the world to the least populated city in the world at the time," he said.
"When we landed in Sydney it looked like the place was closed."
It certainly took him a while to get used to his new home.
"Buses would go by and there'd be no one in them," he said.
"That was unthinkable in Egypt, no matter what time people'd be just hanging off the roof [of the bus]," he laughed.
Akmal's comedy draws heavily on this contrast between his Arab heritage and his life in Australia.
He also has a talent for addressing heavy subjects, including religion and terrorism, in a non-offensive way.
He admits that when it comes to comedy there's really no topic that's off limits.
"Theoretically you can talk about anything and make it funny, if you're clever enough," he said.
"But the more contentious, more sensitive the issue the more careful you have to be.
"The idea is to make people laugh, it's never to offend them."
Which is exactly what he's aiming for when he makes his way to Rooty Hill RSL on Saturday, July 11.
Audiences can expect an hilarious show that draws heavily on audience interaction and Akmal's signature freestyle brand of comedy.
"I'm very lazy by nature," he said.
"I've found that over the years a lot of the really well-written material I initially improvised.
"I initially just worked off the audience, just workshopped with the audience, so they helped me write it.
"That's what makes it interesting for me, it keeps it exciting for me, it keeps it fresh."
Of course the downside of audience participation comes in the form of the dreaded heckler.
Though Akmal admits the destructive, and often drunk, variety of heckler can ruin a show, there's also a very productive style of heckling that he loves interacting with as part of his routine.
"The good hecklers are the ones who just want to be a part of it and are intelligent and know when to come in," he laughed.
"That suits my style. I can really feed off that."
Whether you plan to be a heckler or simply a satisfied audience member, this is one show not to be missed.
Akmal will be performing at Rooty Hill RSL on Saturday, July 11 at 8pm. Tickets are $39. For more information or to purchase tickets visit www.rootyhillrsl.com.au or call 9625 5500.
– Kate Reid