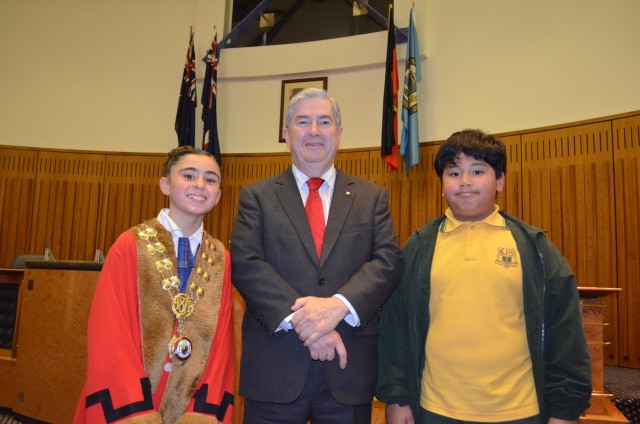 From a record 200 applications, Penrith City Council has chosen their Junior Mayor and Deputy Junior Mayor for 2015.
Jesse Penza, from Holy Family Primary School landed the role of Junior Mayor, and Wilhein Dulay from Kingswood Primary School is the new Junior Deputy Mayor.
Miss Penza said she feels really good after putting a lot of work into her application that asked her to describe what Penrith would be like in 200 years.
"I put in my submission about the airport that's going to be coming soon to Penrith, and how that's going to change how Penrith looks and works," she said.
"All the roads will change and the way it looks, so it will have heaps of buildings everywhere and it won't be country anymore – it's kind of good and bad in ways."
Miss Penza said she is most looking forward to learning about how Council and local government works, and there is a chance she could be a real Mayor one day.
"I want to learn how the Councillors make decisions and how they get the ideas and things like that," she said.
"I could maybe be a politician, I think I have a possible chance."
Deputy Junior Mayor Mr Dulay, said he also wrote about the Badgerys Creek Airport, but wants to gain a different experience to his Junior Mayor counterpart.
"I wrote about the new airplanes and airport, and I did the plans around that with buildings going up," he said.
"I want to be confident and not nervous speaking in front of people."
Penrith Mayor Ross Fowler said the selection process was very competitive, and commended all applicants on their effort and great work.
"Your applications and what you presented were very high quality and worthwhile," he said.
"USBs with video, not only medium being used, but PowerPoint presentations, drawings, paintings, poems, stories – I think the only thing I didn't get was a live application."
15 Junior Councillors were chosen from 21 different primary schools, and had the chance to meet with several of their "Councillor Buddies", Councillors Kevin Crameri, Jackie Greenow and Maurice Girotto.
The next Junior Council meeting will be held at the Council Chambers on Monday, July 13, with the the last meeting on Monday, August 10.
– Dale Drinkwater