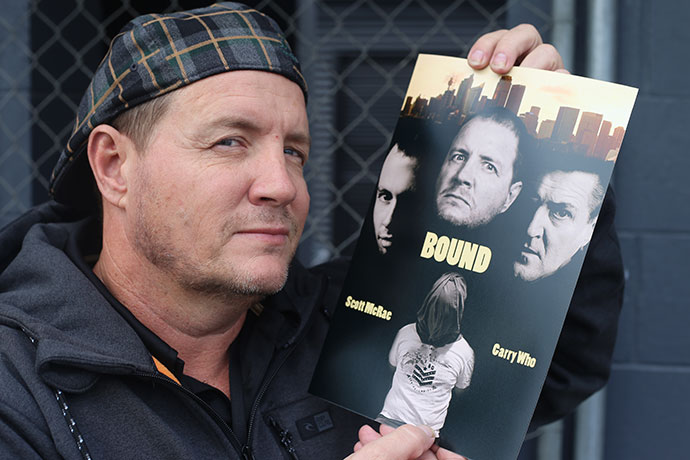 Award-winning Penrith filmmaker Travis Earl is seeking out passionate locals who wish to assist him on his adventurous crusade to make his next film.
The 31-year-old independent film writer and director recently launched a crowdfunding campaign to help make his next feature film, titled 'Bound'.
The dramatic thriller is about a group of vengeful men who attempt to dish out some vigilante justice against a young a man who had nearly killed one of their friends in an alcohol fuelled attack.
The group carries out a kidnapping on the main culprit to scare him but as the mission goes awry they are forced to make hard decisions and they begin to reveal their true selves and face their true motivations that have been misdirected at their victim.
'Bound' is expected to star some of Australia's best actors as well as some up and coming local talent. Well known identities already attached to the project include comedian Garry Who ('Fat Pizza', 'Housos') and Panthers ground announcer and part-time actor Scott McRae.
Mr Earl's Indiegogo crowdfunding campaign target to make 'Bound' is currently set at $60,000.
"Anybody can donate whatever they want, every little bit helps," Mr Earl said.
"I would really like to appeal to businesses and individuals who have a lot of money. It's tax deductible and I'm more than happy to promote the business on the website, in the credits or via product placement.
"Anyone that puts money into the project will receive a perk, like being an extra in the movie or spending time on set."
Mr Earl added that even if the crowdfunding campaign doesn't reach its wealthy target, the movie will still be made.
"Everyone that's read the script has said this is a movie that must be made right now because it is so topical, timely and relevant to today," he said.
His ultimate goal is for 'Bound' to be screened at major film festivals as well as receive a theatrical release and DVD distribution.
To find out more about the project or to donate, visit www.indiegogo.com/projects/bound-an-australian-feature-film or email [email protected]
– Nathan Taylor