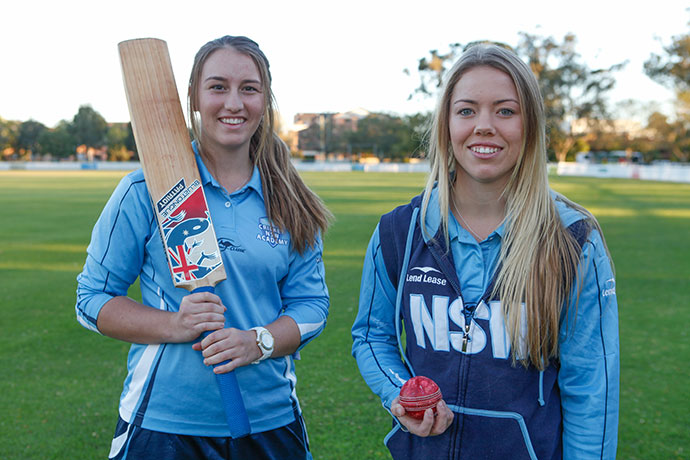 Two local cricket players are heading to Sri Lanka next month to experience the sights, sounds and just about everything the tiny subcontinent nation has to offer.
17-year-old Mikayla Hinkley and 21-year-old Naomi Stalenberg will join 11 of the state's best young players as part of the Cricket NSW Female Development squad who will fly to Colombo in June to play T20 and 50-over matches against local Sri Lankan teams.
The 10 day tour aims to develop athletes with limited international touring experience and will see them play cricket in conditions they may not have experienced before.
"This will be my first time overseas, so it's very exciting," Hinkley said.
"I can't wait to experience Sri Lanka's culture and the way they embrace and play the game.
"It's going to be stinking hot, the humidity is going to be crazy."
No stranger to playing overseas, having previously played in the Netherlands and New Zealand, Stalenberg will be one of the more experienced players heading over.
"I'm looking forward to being a role model to the younger girls by teaching them a bit more about the game," the all-rounder said.
She said she can't wait to experience the culture of a country such as the cricket-mad Sri Lanka.
"It's going to be really fun to see what Sri Lanka has to offer, like the atmosphere and playing conditions, and it will be cool to see how we go over there against some of those sides," she said.
Both Hinkley and Stalenberg play in Penrith Cricket Club's first grade women's team and are also best friends off the pitch.
"Having my best friend there will be the ultimate way to experience overseas for the first time," Hinkley said.
"It's going to be really cool to go over with someone like her," Stalenberg added.
The squad will be under the guidance of NSW Breakers assistant coach Ben Sawyer as well as former Breakers player and Cricket NSW Female Pathways Manager Leah Poulton.
"The tour will give the squad an idea of what to expect from an overseas tour as well as give them some invaluable match experience in both T20 and 50-over formats," Poulton said.
– Nathan Taylor