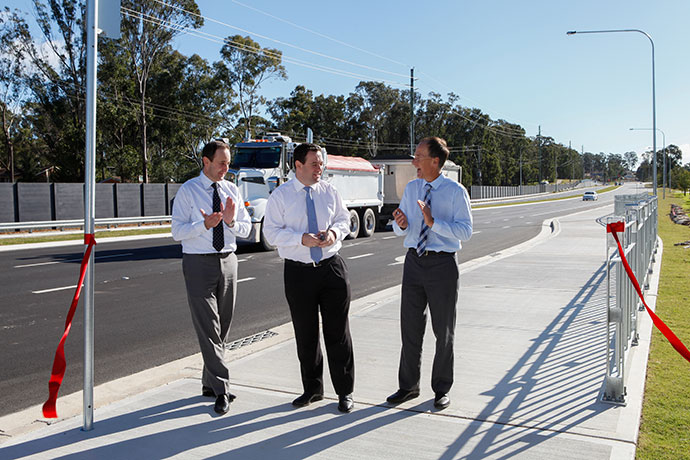 The two kilometre stretch of dual carriageway on The Northern Road between Andrews Road and Borrowdale Way, Cranebrook was opened by the project's developer, Lend Lease and Member for Penrith Stuart Ayres earlier today.
General Manager for Lend Lease's Communities business, Arthur Ilias said through internalised, condensed construction, two stages of the road upgrades were delivered in 2015, instead of 2020 as first planned.
"Lend Lease has got [its own] roads and infrastructure business, so it made sense to us to work with our internal business to bring that together," he said.
"This was going to be delivered in two stages, so to deliver it in one stage and use our own business in collaboration… to fast track it, I think it saved money, it delivered it quicker, I think it's a great outcome for the community."
The road was formerly two undivided lanes, but now boasts four lanes with improved pedestrian and cyclist facilities and three signaled intersections.
Mr Ilias said the early delivery demonstrates Lend Lease's commitment to delivering a vibrant community and strong ties to the wider Penrith area, and in particular Jordan Springs.
"The upgrades will reduce traffic congestion, give a boost to local business buy improving transport links, and contribute to greater road safety," he said.
Member for Penrith Stuart Ayres said the fast-tracked delivery of the $25 million project is a testament to good planning, and a good partnership between the State and Lend Lease.
"It's a really good example of what happens when you plan communities incredibly well, and the sales record of [Jordan Springs] I think is a reflection of the quality planning that's been put in place," he said.
"The combination of fantastic community and the right infrastructure has been backed up by strong commercial demand… It's a partnership between the State Government and Lend Lease."
Mr Ayres said the upgrades were funded completely by Lend Lease, with the State Government providing support in the form of planning and project management work.
– Dale Drinkwater