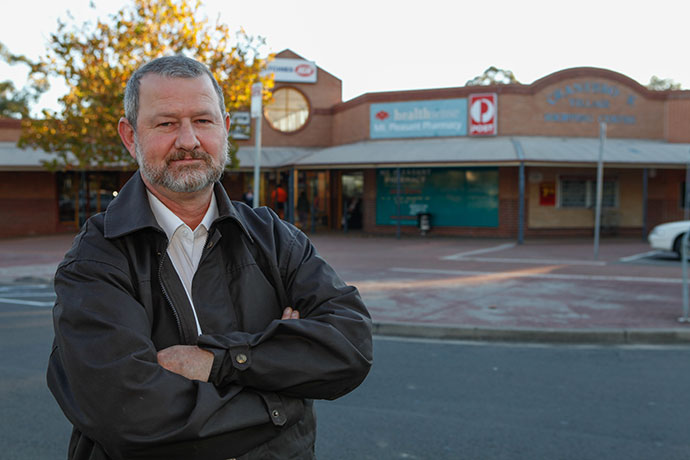 Penrith City Council will review their agreement with the developers of the Cranebrook Shopping Centre amid revelations developers are no longer undertaking construction in two stages as Council believed.
The Western Weekender revealed last week that the shopping centre is set to be completely closed while it is renovated.
Councillor John Thain said he believes complete demolition and construction was not in the development application (DA) that went before the Joint Regional Planning Panels (JRPP).
"The Expression of Interest was always about a staged development, the application they put into the JRPP was always for a staged development," he said.
"We have certainly been blindsided by the way [the developers] have conducted themselves, and now they are trying to twist our arm to get what they want, and I can assure you we are not going to lay down and take it.
"[The developers are] trying to force the issue to their own advantage, which is not to the advantage of the community or shop keepers."
On the NSW Government's JRPP Development and Planning Register, the DA is titled and described as 'Staged Development of Cranebrook Shopping Centre'.
A representative from AusPacific Property Group said although the DA outlined methodology for staged construction of the centre if need be, it was not limited to it.
"The application was for the redevelopment of the existing centre, as a part of that we had to cover how it could be staged if there were leases in place," he said.
"If you read the conditions of consent there is not one condition that says we need to do it, there are no conditions it must be staged."
He said since AusPacific secured ownership in November last year, Ritchie's IGA did in fact sign a surrender of lease and are now waiting on AusPacific's notice to vacate.
"They've decided it's not worth them continuing on until their lease ends in December 2016," he said.
"We want to make sure IGA trades while the specialty stores are there. We don't want them to leave when they decide, and yes they will be waiting on an official notice."
Ritchie's IGA does not have a 'demolition clause' in their lease agreement that entitles them to six months' notice to vacate for demolition, and CEO Fred Harrison said it could be anywhere from six to 10 months away.
"We will continue trading until we are notified otherwise, the ball is in [the developer's] court, they need to come back to us with a date," he said.
"We thought [we would stay] longer not shorter, but if there are going to be issues around dust, food safety OH&S, we can't subject ourselves just to be a stick in the mud."
– Dale Drinkwater