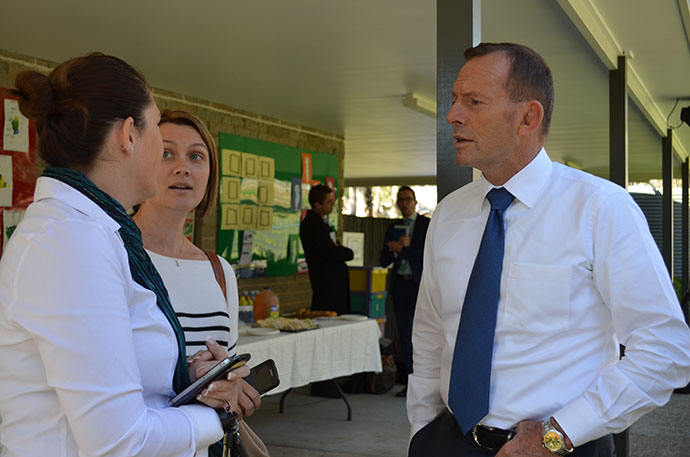 Prime Minister Tony Abbott spoke with parents at Mulgoa Preschool earlier today about the coming changes in the 2015-2016 Federal Budget.
Accompanied by Minister for Social Services, Scott Morrison and Member for Lindsay, Fiona Scott, Mr Abbott said the Budget is carefully targeted and will do the right thing by families.
"At the heart of this year's Budget is the new Jobs for Families Package which is going to make it easier for people who have youngsters in childcare and preschool," he said.
"At so many family dinner tables people are talking about the economics of working – is it worth taking the extra day at work, is it worth going out to work at all given the costs of childcare and preschool… we want to change the economics of working."
Local mother Erin Bleisdale from Luddenham works full time, and said the $840 million commitment to guarantee children time at preschools is the right direction to encourage people to work.
"I balance my son's care between long day care and preschool. Preschool supports him in the growth of where he needs to go for school, but I have long day care for the flexibility," she said.
Mr Abbott added that western Sydney is full of 'aspirational tradies' and small businesses that will benefit from a 1.5 per cent tax cut and up to $20,000 write-off on purchases.
"I'm particularly pleased we've been able to offer the tradies of Australia, the tradies of Sydney, a $20,000 instant asset write-off because so many people want to re-equip their workshop or upgrade their toolkit," he said.
Mr Abbott said Opposition Leader Bill Shorten's budget reply that suggested lower taxes and more spending doesn't add up, despite Mr Shorten recommending a five per cent tax cut to small businesses.
"He's finally worked out that small business deserves a fair go but we've heard this story form Labor before, Kevin Rudd back in 2010 promised a five per cent business tax cut and never delivered it, so this is typical of Bill Shorten," he said.
However, Mr Morrison said the small business commitments and the $3.5 billion Jobs for Families package is fully paid for by a Liberal Government and promised it will happen.
"We know whether it's here in western Sydney… or even in remote and rural areas where our packages reaches out to families who need the support, it will be delivered and it's paid for," he said.
– Dale Drinkwater