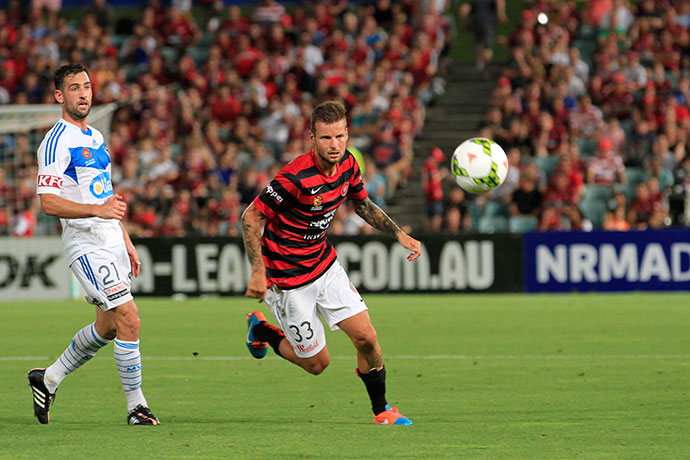 The Western Sydney Wanderers will be doing it for their fans over the final two rounds of the A-League season, starting this Saturday night at Pirtek Stadium.
Wanderers fans, who go to home fixtures in their droves, haven't had too much to cheer for this season, with their side now officially dead last on the A-League ladder with just two games remaining.
However, with Western Sydney's final two matches against Adelaide United and Perth being held at home, Wanderers coach Tony Popovic says there's no better time than now to repay fans for their loyalty and support during what was a difficult year.
"I'd love for us to get six points over the last two games. I want our fans to go home happy again, for a change," he said.
"They always turn out in numbers, they are vocal throughout and they are just tremendous fans. I'd love to send them home happy."
Unfortunately for the Wanderers that could be a mammoth task to achieve especially considering they are up against an Adelaide side who have beaten them twice already this year and are also battling a number of clubs for Premier's Plate honours.
Wanderers goalkeeper Ante Covic rates his side's chances highly if they manage to get off to a good start.
"On their day Adelaide are capable of winning everything but, at the same time, when they start good they are hard to reel in," he said.
"If you can get on top of them early by getting an early goal, I wouldn't say they struggle but it gives the other side more of a chance."
Despite the Wanderers going down to Adelaide 2-0 and 2-1 earlier this year, Covic is confident those two losses won't mean anything come Saturday night.
"Even though they've had two victories against us, I can't say they dominated or ran away with anything," he said.
"That's a positive sign for us and we're playing at home where we have to be strong again like we were the first two years."
Last Saturday the Wanderers went down 1-0 to the Central Coast Mariners. The loss leaves the Wanderers in last position, two points behind Newcastle.
The match against Adelaide kicks off at 5pm on Saturday.
– Nathan Taylor