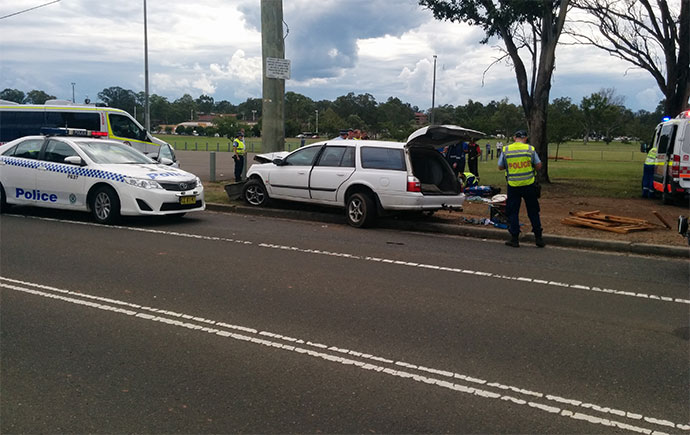 Senior police are pleading with motorists to take greater responsibility on NSW roads as the Easter long weekend road toll end with four people dead, 189 injured and families torn apart.
The long weekend saw several serious incidents in Penrith including a bad accident at Kingswood on Monday that saw three children under five transported to hospital for treatment of various injuries.
In the early hours of Monday morning, a man was injured when his Mazda flipped on the M4 motorway at Emu Plains. It's believed speed was a factor in the crash.
Commander of Specialist Operations, Deputy Commissioner Catherine Burn said police are extremely disappointed that motorists were just not listening, and at worst, not thinking over the long weekend.
"We got the message out there, but we're disappointed the message didn't get through," Deputy Commissioner Burn said.
"Police were out there all weekend, night and day, we're doing our best to keep motorists safe but it seems there are some who just don't care. Don't care about themselves or anybody else. This attitude to driving has to change.
"Right now there are four people dead, including two young children, and families are left wondering why.
"One of the reasons is lack of attention. Not paying attention to the conditions. Not paying attention to their surroundings. And just not paying attention.
"While the Easter long weekend has ended, the school holidays have just begun, and there will be thousands of families taking a break.
"We are asking that all motorists change their attitude to driving, pay attention so they get to and from their destinations safely."
Four people died on NSW roads this Easter long weekend compared to two people last year, with 189 people being injured down 17 on last year (206 injured).
So far this year we have had 87 people die on NSW roads compared to 91 last year.
243,888 breath tests were conducted resulting in 298 drink driving charges, and 4801 infringements notices were issued for speeding.
1300 Random Drug Tests performed that resulted in 222 positive tests.
Traffic and Highway Patrol Commander, Assistant Commissioner John Hartley said while some of the traffic offence figures were down the motoring public needed to show greater concentration.
"It is apparent some of the behaviour and attitude of motorists has to change. We have to call it for what it is – it's killing people," he said.
"The number of detections for speeding, drink and drug driving is one thing, so are the fines which go with the infringement notices, but it's the human cost, those who die on the roads, those who are injured, and the ones who are left behind to try and make sense of it all."
– Troy Dodds