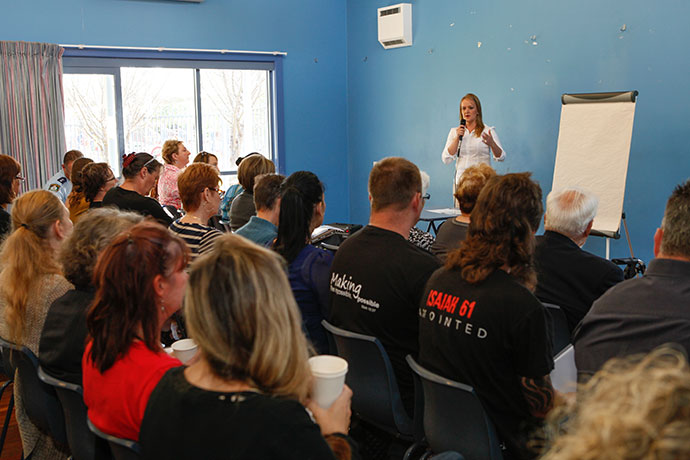 The community has had enough and has banded together to fight back against the increasing epidemic of the drug 'ice'.
Federal Member for Lindsay, Fiona Scott addressed an 'ice forum' at the Kingswood Neighbourhood Centre on Tuesday, where people from all corners of society joined forces to try to find a solution.
"[Penrith LGA is] a family community, that's not what this community is about so this is our way of fighting back," Ms Scott said.
In the last two years, the use and possession of methamphetamines such as 'ice' that causes psychosis and long term psychological issues is up 24.2 per cent in the Penrith LGA, higher than the state increase of 16.1 per cent.
"The fact that I can get all these [people] in a room together wanting to talk… just goes to show that we have a community that's just not going to accept these numbers," Ms Scott said.
"So today is about trying to find a solution, and my role… is to facilitate the process and then be able to report back to Government as to how we move forward."
The overarching response from the forum was that it will take a whole community and many organisations to nut out the epidemic at all levels, not just Government or police.
The Nepean Community Neighbourhood Centre's Joy Impionbato explained how childhood trauma is a direct link to drug and alcohol issues, and highlighted the need for rehabilitation.
"There's vulnerable kids that are not getting the attachment from their parents… it's repeating the cycle for potential use of drugs and ice," she said.
"We want to see faster responses for detox and rehab, and would love to be able to rehome them in good areas but we can't do that."
Superintendent Greg Peters agreed that mental health is a huge factor in the epidemic and said the police need assistance from all community organisations to overcome the issue.
"We run both covert and overt operations, and operate 24 hours a day, seven days a week, but drugs is a faceless crime," he said.
"I could put my head in the sand and say it's not a problem, but it's an epidemic and unless we grasp it now it's going to take over."
– Dale Drinkwater