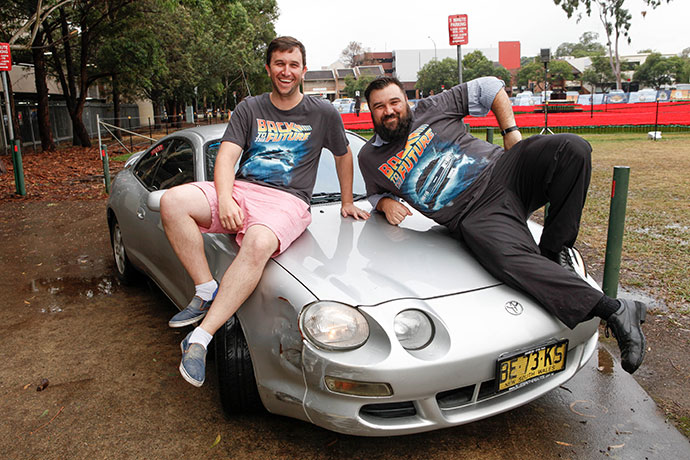 After seeing their father suffer with cancer, local brothers Grant and Adam Murrell, decided that they wanted to do something big to make a change.
So the pair signed up for the annual Shitbox Rally, where teams attempt to drive cars that are worth less than $1,000 across the country to raise money for the Cancer Council.
Grant and Adam are taking part for the first time this year in a 1998 model Toyota Celica as team 'DeLorean Express', and will kick off their journey on May 9 from Canberra, drive 3,600km along the Birdsville Track and through Simpson Desert, hopefully ending up in Townsville a week later.
The brothers are hoping that they will make it all the way to Townsville, but are expecting a number of bumps along the way – given that blown tyres and unfixable break-downs are common on the rally.
The looming challenges are all worth it though, according to Grant, knowing that they are raising funds for a good cause.
"About five years ago our old man came down with bladder cancer. That was a big shock and a blow. He was pretty lucky, saw some good doctors, but unfortunately he lost his bladder out of it. It was an eye opener, that's for sure," Grant said.
"We wanted to give back and this idea came along not long afterwards. There are two parts to it for us, firstly it is a statement, we want to be able to say 'this is what we are doing and this is what we are doing it for' but it is also a bit of a bonding experience for us."
Adam said that cancer is something that so many people in the local area can identify with.
"Everyone sees it through their family so for us, we've had our cousin and our dad. It hits home and you don't really want to see it happen to anyone else," he said.
Between now and May 9, the brothers are hoping to raise over $4,000 and are looking for corporate sponsorship to help them reach that goal.
Businesses that sponsor the team will have a special space on the car for advertisements.
The brothers are keen to secure their list of sponsors before they head off next month.
To sponsor the team, call 0415 479 720 or visit www.shitboxrally.com.au and search for DeLorean Express.
– Katherine Tweed