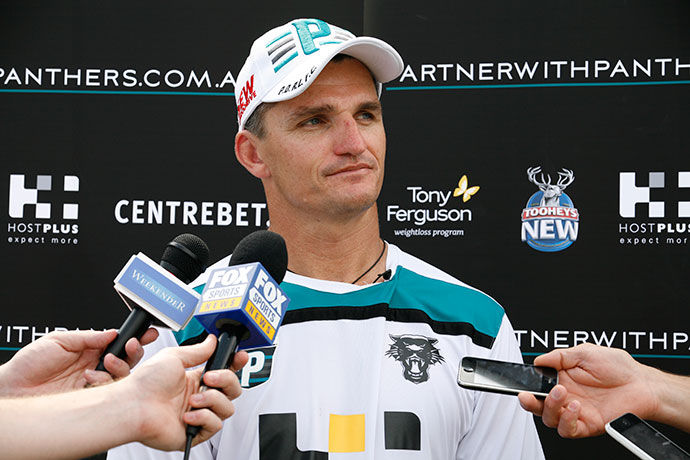 The best coaches in world sport know that it's not always about winning.
Some actually crave moments of failure so they can correct the course and plan better for when a difficult situation arises again.
Ivan Cleary is such a coach.
After his side's 20-12 loss to the Sydney Roosters at Allianz Stadium on Monday night, Cleary remained relatively upbeat.
"It'll put us in good stead for some tougher games down the track," he said.
"All in all it's another step on the road… we'll actually benefit from this."
Many coaches in the NRL wouldn't have remained so calm and collected.
Many would have screamed, shouted and played the victim.
That isn't Ivan Cleary's style.
Even when you could discuss referees post-match, Cleary very rarely did – he remained focused on what his team did right or wrong on any given day.
Cleary's demeanour post-match changes so little from wins to losses that you wouldn't know if he was at a wedding or a funeral.
You see, he knows it's not all about winning.
He knows that with each loss, a window opens to fix something that could hinder his side down the track. Wins like the 40-0 thumping of the Gold Coast the week prior do not open such windows, and yet Cleary knows his side was far from perfect that afternoon. Hence, winning can sometimes be more frustrating than losing – for a professional coach, anyway.
When you lose a battle, there's every chance you'll figure out how to win the war.
As the famous American football coach Vince Lombardi once said, "The greatest accomplishment is not in never falling, but in rising again after you fall".
Penrith will look to rise again when they travel up the M1 to play the unbeaten Newcastle Knights on Saturday afternoon.
The Knights have had an impressive start to the season and should be praised for their never-give-up attitude, which has resulted in come-from-behind victories in their most recent two matches against the Titans and Cowboys. To win both of those games on the road is certainly a solid achievement and the Knights return home with plenty of confidence.
The battle out wide is of most interest in this clash. James McManus and Akuila Uate offer both stability and speed for the Knights, while Josh Mansour and Dallin Watene-Zelezniak offer much of the same – probably with a touch more grunt.
In the middle, James Segeyaro's ability to dart out of dummy half and send defences back on their heels will come to the fore here – he needs to keep the Knights on their toes at every moment and try to ensure a fast-paced game.
One thing that must improve on Saturday is Penrith's kicking game. Too often on Monday night the Panthers allowed the Roosters easy field position by producing fourth tackle kicks that had no real substance.
Despite their unbeaten start to the season, this is a real test for the Knights. So far they've played the inconsistent Warriors and two sides who are yet to register a win in 2015. They come up against their toughest opposition to date on Saturday afternoon.
I can't see this being anything but a tight game – and Penrith will have to overcome a hostile crowd at Hunter Stadium if they're to walk away with the chocolates.
– Troy Dodds