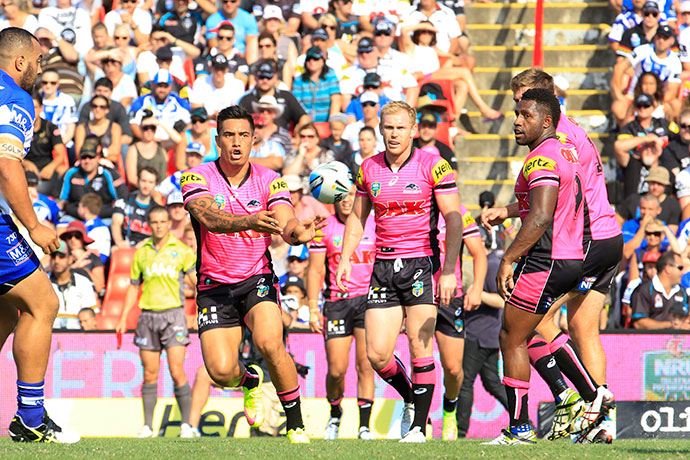 Dean Whare remembers signing with the Panthers right at the beginning of Phil Gould's famous five-year plan.
He would never admit publicly that he regretted leaving Manly during the height of their dominance but, looking back, he's certainly glad he took the gamble.
"It was definitely hard to leave a great club like Manly but as soon as I signed I knew I made the right decision," the 25-year-old told Extra Time.
"Even during that first year when we didn't make the top eight, I knew we were going places and it's paid off pretty well."
Since Whare arrived at the club in 2013, the Panthers have improved out of sight and are now one of the powerhouse clubs of the NRL.
Whare's game, too, has also improved exponentially over the years.
After initially starting his first few games with the Panthers at fullback, Whare has grown to become one of the game's leading centres both in the NRL and on an international level.
"Since I've been here I haven't missed a test for New Zealand, which I can probably credit to this team and myself preparing well," Whare said.
"My goal this year is the same every year and that's to play consistent each week; I try not to play a bad game and back it up with another bad game."
One thing that Whare is finding refreshing about the Panthers of 2015 is the fact that there's no longer negativity surrounding the club in the media.
No longer are the Panthers easybeats or wooden spoon favourites – they are finally a team to be reckoned with.
"It's certainly a lot different from when I first came to the club in 2013 when people tipped us to come last," he said.
"There was definitely no expectations that year, we just played footy and we just missed out on the top eight."
Whare certainly doesn't hold any grudges against those who bagged the Panthers, in fact he thanks them.
"I think those people that put us down helped us to get to where we are now," he said.
"Not many people backed Gus' five-year plan but it's all worked out pretty well so far and I think we're on the brink of something pretty amazing."
– Nathan Taylor