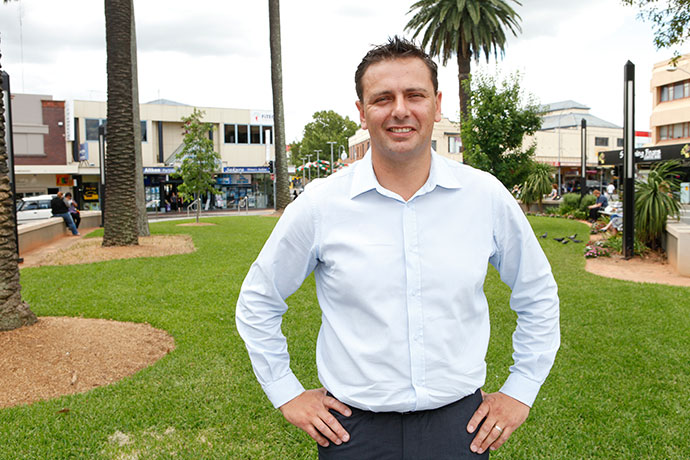 Mention the name Todd Carney and politics and you'll probably get a strange look or two, particularly from those who know about the world of rugby league.
The Todd Carney contesting the seat of Mulgoa at tomorrow's State Election, however, is nothing like the footballer.
Mr Carney has lived in western Sydney for his entire life and for the past 12 years has been living in Glenmore Park with his wife Sharon, where they are raising their children, four-year-old Zach and two-year-old Lily.
» On working with David Bradbury
"Working for David for six years allowed me to work with the community on many issues. Having those little wins and helping the community out, the feeling that we got was just great," he said.
"It was a way that I could put back into the community and the next step after working for someone is putting yourself forward as well and that's why I chose to run."
» On the Mulgoa electorate
"It is a really diverse area, Mulgoa. You go from suburbs in the Penrith Council area, like Glenmore Park, Regentville, St Clair and Erskine Park but then you also go down to Liverpool and also Fairfield. They all have different needs but a lot of it centres around education and providing a decent healthcare system and also trying to provide jobs close to homes," he said.
» On education
"I left school in Year 10. I went on and I did TAFE to become a heavy vehicle mechanic, so I understand what a great education TAFE provides," he said.
"I want my children to have an opportunity to go through and do whatever they choose to do in life. They should have all those options open to them and at a cost where they can afford it. There are a lot of kids in our area who don't have a great deal of money and their families don't have a great deal of money but [with the current Government] we're not going to be able to have an affordable, top quality education, whether it is through TAFE or through university that allows them to be able to pursue their goals and be the best that they can be.
"We've committed to reversing those fee hikes back to 2014 levels to make it easier for people to get in and become active members of our community."
» On health
"We, the Labor Party, have committed $351 million toward the redevelopment of the next stage of Nepean Hospital, which is great for western Sydney. As our area grows we are going to need those extra facilities within our hospital network. We've also committed to extra nurses to go along with that," he said.
» On electricity privatisation
"This is a thing that I disagree with. The plan that the Baird Government has come out with is a risky one. We have a fully costed plan for infrastructure that has been through the parliamentary budget office and it's there, the money is available," he said.
"Mike Baird is not clear on whether he will accept less than $13 billion for it, will he accept $9 billion? If that's the case, what programs are going to be scrapped? He is not clear. The ones we have committed to, we have the money to fund those."
» On jobs in western Sydney
"We definitely need to build more infrastructure but we need to look at how do we actually get people off the roads, off the rail system and actually working close to home," he said.
"We've got people who go to the city from Penrith every day; it is a three hour round trip. That's impacting on their family lives, it's impacting on their work life."
» On Badgerys Creek Airport
"I am supportive of the program in general but I do not support a 24 hour airport and I won't support one. A lot of families have bought out here in western Sydney not expecting for an airport to be built here. I understand that the land was purchased for that reason but over successive governments they have said 'no we aren't going to build one'," he said.
» On engaging with the community
"One of the things that I have found after talking to residents is a lack of consultation that they feel is happening at the moment," he said.
"We need to be able to engage with our community, we need to bring our community along with what's happening and if there are decisions that need to be made and community members aren't happy about it, we need to stand up and let them know why you have made that decision."
» On why you should vote for him
"I am a committed person to our local community. It is an area that I love and that I want to give back to. I have proven myself through my time at David Bradbury's office. As part of a team I've been able to help deliver outcomes for our community and make sure that the community is represented in the best way," he said.
– Katherine Tweed