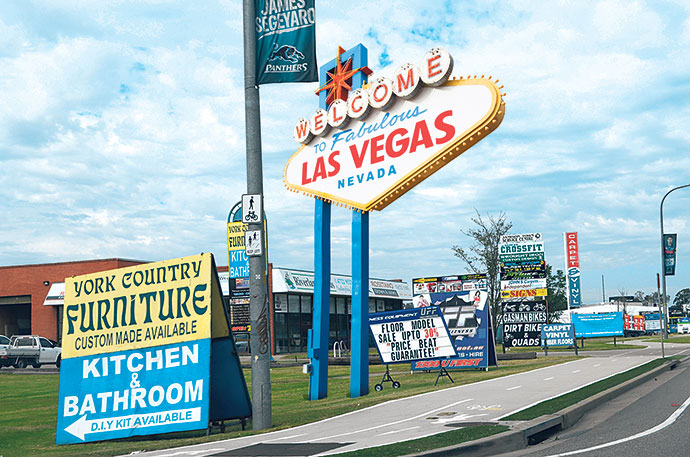 Mulgoa Road has been compared to the Las Vegas main strip in a Penrith Council meeting that reassessed its position on movable signage.
Councillor Mark Davies made the call amid the flurry of a state election highlighting the combination of election signage, business signage and safety and direction signage.
"I felt that Mulgoa Road has started to look like Las Vegas' main street and that's not the look that we want," Cr Davies said.
In the Council Policy Review meeting, Councillors raised the issue of the extensive amount of signage on Council land, public roads and road reserves causing obstruction to traffic or pedestrians.
Councillor Greg Davies, who initially requested the report into confirming Council's position on movable signage, said people should have to apply to put up signs on Council owned and public land.
"People should have to pay to register signs. I don't think we should have an allowance that says if you're doing it tough you can have it for free. I don't think it's the right thing to do," he said.
"As for signs on school fences, I don't have a major problem with those but you should have to have an application to put them up.
"In the inner city suburbs, every pole is covered in signs and not taken down. If one business does it then everyone wants to."
However, the recommendation in the report for Council to adopt a position to not support movable signage on Council owned land extends far beyond aesthetic concerns.
"I have had some residents suggest concerns about advertising signage trailers on the side of the road," Councillor John Thain said.
"They said if their trailer's parked there and it's not attached to a vehicle then it's not insured… if that is the case then they shouldn't be attached to the road."
A spokesperson from Roads and Maritime Services (RMS) said the insurance is just like that of a caravan, and it depends on the level of coverage for that specific trailer.
Penrith Mayor Ross Fowler suggested to have this issue investigated and to come back to a briefing in the middle of May.
Councillors carried the recommendation and a draft signage policy will be created.
– Dale Drinkwater