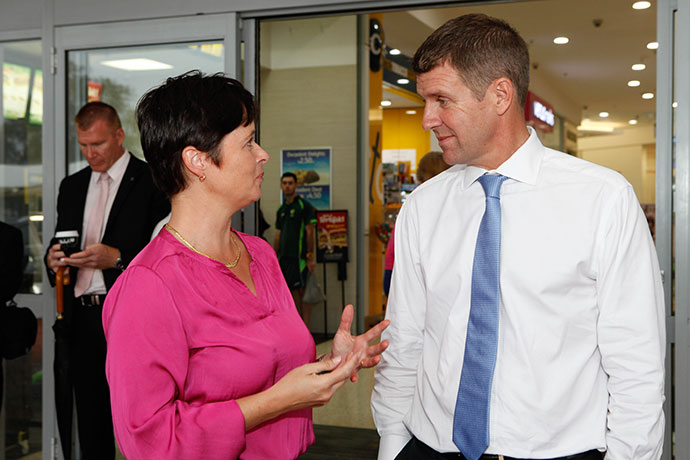 Unlike many other candidates running for a seat in this weekend's State Election, current Member for Mulgoa Tanya Davies did not grow up near her electorate.
Like many of us, Ms Davies fell in love with the area and made the move here.
Ms Davies has thanked her electorate for their support over the last four years, but said her gratitude is no indication that she's finished fighting for the area she now calls home…
» As a former Councillor
"My main passion at the time of being a Councillor was to get the St Marys Methadone Clinic moved. It was obvious to everybody at all levels," she said.
"I was spoken to by a clinic client, someone who was on the medication, just saying 'this is not good enough, we should have better than this'.
"I was just so frustrated that the then Labor State Government had ignored the people and the clients and the community for so long."
» From Council to state politics
"I had no plans to run for the State Government, but I was really challenged by what I was hearing, and had to think, 'Do I need to tackle running for state to make the most difference?'" she said.
"The reality was that the Labor Party of the day were not taking care of western Sydney and they'd had enough so they were very motivated to change the government and see if we would be different.
"I believe wholeheartedly that we have been."
» If Labor wins
"They have a plan to take us back to number eight," she laughed.
"It would be absolutely devastating if once we had just started to get NSW back on track – now NSW is number one again, we've created more jobs than ever before and yet we've only just scratched the surface of where we need to go – if that was taken from us and handed back to Labor."
» Proving her resilience
"I was bullied a fair bit in high school, and I went to a small school so there were five girls in my year, so when you're the only one getting bullied there aren't very many places you can go and hide," she said.
"I think that taught me a lot about myself and the strength that I had and it actually garnered within me a very strong awareness of other people who are in a similar situation.
"I have a very acute awareness of the David and Goliath scenarios in our world, and always want to come in to help those that are being downtrodden or overlooked, or worse."
» In a man's world
"I think there are a lot of women, not all of them, that probably underestimate what they're really made out of," she said.
"I think we really need to encourage each other, look at another woman in the eye and tell her what's great about her.
"There is immense power and immense value that women can bring to a society, to a community and I just believe in that so much."
» St Clair High School funding
"Because 80 per cent of the school was destroyed, they really had a once in a lifetime opportunity not just to replace a 36-year-old building, but to actually reshape the whole school," Ms Davies said.
"Completely redo it with modern teaching, modern thinking, and ways of engaging with students and turn it into a venue that's even more accessible to the community.
"I will wear myself out to try and achieve. In a lot of cases I have achieved, and have won and got things fixed and in this case I did."
» Why is there no Plan B after the electricity privatisation plan, which has dominated the election campaign?
"We need access to a large chunk of money to tackle the infrastructure backlog," she said.
"What we should already be using and living with in our community isn't there. We need a big cash injection to get those underway.
"The State Government still gets 51 per cent of the income stream, and yet projections are that we will get around $20 billion up front, to build all this stuff. The $20 billion up front investment over 30 years will build the economy $300 billion.
"When Bob Carr was premier, they costed the network at around $40 billion, so it's slowly decreasing.
"If we do nothing, none of this will go ahead, we will keep it as it is so every year that they keep the poles and wires, the income is getting less and less, so there's a shrinking pile of money to tackle the $30 billion backlog."
– Dale Drinkwater