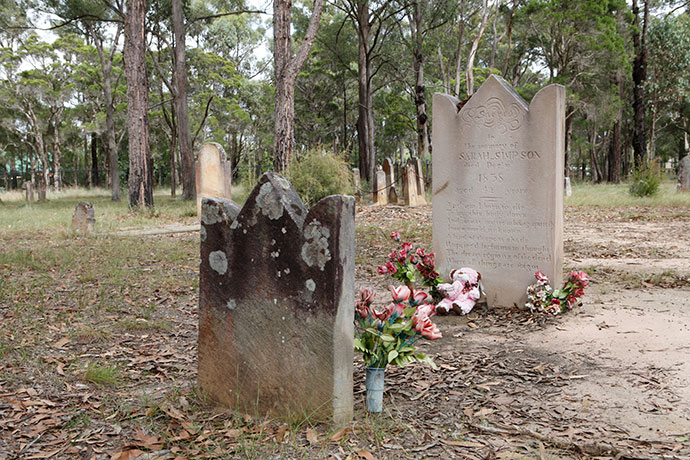 It's one of Penrith's oldest and greatest mysteries that still has people talking to this day.
It's the grave of Sarah Simpson (nee Marshall), which is located in an old bush cemetery at Castlereagh.
The story you're about to read could be fact, fiction or legend.
No one really knows for sure what happened to Sarah or how she died nearly 180 years ago, but the most common theory is as follows.
Way back in 1818 Sarah Marshall, a British woman, arrived in New South Wales from the United Kingdom as a convict on the Friendship – a ship used in the First Fleet.
Sarah was transported to Australia after she was busted stealing clothing to the value of fivepence.
It's understood Sarah served her sentence obediently, which ultimately earned her the freedom she deserved.
During this time, Sarah met a fellow freed convict by the name of John Simpson, a tailor, and moved out west.
Reports suggest the pair were very close and had eight children together, all out of wedlock, which was severely frowned upon during this time.
But perhaps the biggest mystery in the case of Sarah Marshall was what happened to her on the evening of December 10, 1838.
Legend suggests that on her way home, Sarah was set upon by a group of men who had been following her in the shadows.
"Sarah was brutally murdered in a fit of lust. Her remains were left near her home in Castlereagh, and the cowardly men raced off into the darkness," freelance journalist, Dane Millerd reported.
It's believed that when Sarah's battered and scarred body was later found, her partner John Simpson was utterly devastated. John was left a widower, a single father with eight children, trying to piece together what exactly happened to the love of his life.
Sarah Marshall, 42, was buried as Sarah Simpson as it's widely believed that John married her at her graveside to "allow her to pass without sin into the next life".
These days Sarah's Grave, as it's commonly known, is a hot spot for ghost hunters and history buffs in the local area.
Legend suggests that Sarah continues to harass young men that lurk near her graveside while, at the same time, many young women claim to have seen her ghost in the branches above.
One person by the name of 'Dave' reported an incident at Sarah's Grave back in 2007.
"I have been there many times with friends and never felt anything in particular but on one occasion two mates and I, who are into the paranormal and don't scare easy, brought another friend along who does scare easy," Dave recalled.
"The plan was to mess with him by having one of the other guys walk off when we got to the rear of the cemetery and then jump out at us.
"We got about halfway into the cemetery when I started getting a negative feeling. All of a sudden we heard a high pitch scream, it was extremely loud – it was the scream of a woman. Needless to say we all turned around and ran the hell out of there."
The origins of Sarah Marshall and her apparent brutal murder on that fateful December night will continue to remain a part of Penrith folklore.
– Nathan Taylor