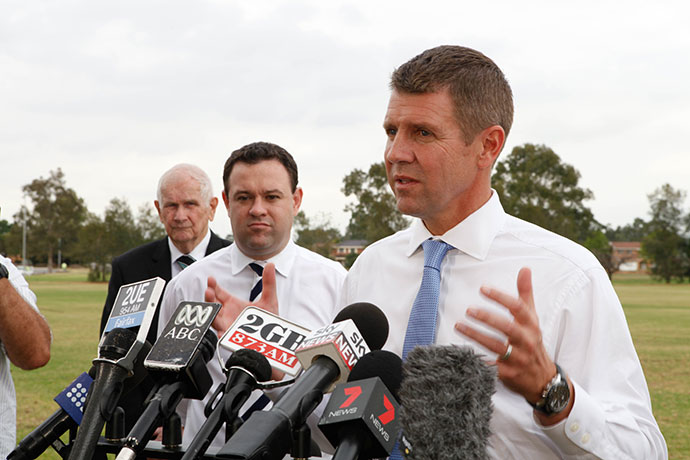 OPINION
By Troy Dodds
NSW Labor leader Luke Foley will put on a brave face right up until 6.00pm tomorrow night, telling everyone who is willing to listen that he's a chance of winning the State Election.
Truth is, Channel Nine's Laurie Oakes will probably declare a Mike Baird victory for the Liberals before the election night telecast's second commercial break.
This will not be a 2011-like landslide but it will be a convincing victory for Mr Baird.
The mood of the public seems to be that they're willing to give Mr Baird the benefit of the doubt when it comes to leasing 49 per cent of the State's electricity network.
The widely-held belief seems to be that most people support the huge infrastructure spend that will come as a result of the initiative, and appreciate the approach that Mr Baird has taken.
That's not to say Luke Foley's fight on this issue has been a weak one.
Mr Foley had no choice but to mount his campaign on building a case against privatisation and while he's made some progress, it hasn't quite been the burning issue he'd hoped for.
This has not been an issue that has grabbed the public's outcry as much as say the carbon tax or WorkChoices.
It was never going to be easy for Mr Foley to make an impact. He came into the job suddenly over Christmas and many casual observers probably didn't even know the change happened.
Mr Foley has essentially had to say, "you shouldn't trust Mike Baird, but you should trust the new kid on the block".
That's an extremely difficult task considering politics is so often a personality game, and Mr Baird is a winner with voters.
From the moment Mr Baird stepped into the mainstream public arena during the royal visit last year, he had everyone's attention.
Mr Foley knows this and that's why he's tried to bring Prime Minister Tony Abbott into the equation. He's suggested on multiple times that if you "get rid of Mike Baird on Saturday, Tony Abbott goes on the Monday".
That's designed to play on the apparent public disdain for Mr Abbott, though latest poll figures suggest the Prime Minister is making something of a comeback.
The final few weeks of the State campaign have been spared any real drama out of Canberra, hence the Abbott factor seems to have been thrown to one side.
Luke Foley has impressed me since taking on the top job for Labor, but he's yet to convince me that he's the right man to be Premier.
I have little doubt he'll go much closer to convincing me in four years' time and I can only hope Labor retains him in the role no matter what happens on Saturday.
Locally, there's much interest in all three seats tomorrow night but primarily Penrith and Londonderry.
In Penrith, it'll be interesting to see what impact the bizarre and at times outrageous campaign from Independent Jackie Kelly has on the sitting Liberal MP, Stuart Ayres.
In Londonderry, the battle of the Councillors (Prue Car and Bernard Bratusa) could well go down to the wire. Both have had really strong, visual campaigns.
I think it's important to mention that four candidates in the local area refused to submit profiles to our special election feature today, despite wanting your vote tomorrow.
No Land Tax candidates Angelo Pezzano, Tania Canto and Joe Arduca didn't submit profiles, nor did CDP Mulgoa candidate Jennifer Scholfield.
I don't think any of the minor parties or Independents have presented anything of real substance at this election.
Your vote tomorrow is important.
Vote with your head, not your heart, and don't forget to bring change for the sausage sizzle.