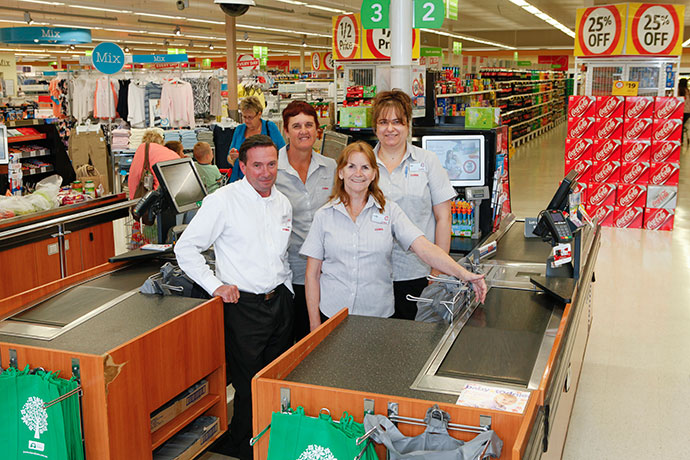 Four team members at Coles Cambridge Gardens are celebrating milestone anniversaries with the company this year, with each having been with the supermarket giant for over 20 years.
While 20 years, and in two cases over 30 years, might seem like an awful long time to be with the one company, the group says that the nature of working at Coles has kept them going.
Store Manager, Matthew Grayson is celebrating 35 years of service with the company this week, while his colleagues, Juanita Robb, Liz Chadevski and Judy Green are celebrating their respective 30-year, 25-year and 20-year anniversaries later this year.
Mr Grayson began working at Coles when he was just 15 years old as a packer, sorting customers' shopping into bags at the end of the checkout.
He moved through the ranks after gaining a butcher's apprenticeship with the company and now sits in a store manager role, which he has held in various stores over 14 years.
"I actually enjoy what I do, I really like being a store manager," he said.
"I really like seeing people develop, grow and take on new roles. Under me I now have nine people that I have trained up and are now working as store managers themselves."
He said that for him, the best part about his role is working with genuine, like-minded people every day.
"Generally, the people that I work with are really nice people. It is good to work with people that you enjoy working with – really, with the hours I work, I probably see them more than I see my own family," he said.
Mr Grayson praised the other three long-service team members, saying that they made his job a whole lot easier.
Ms Robb has been working at Coles since she left school in year 10 when she gained a part time position in the meat department at Windsor.
She is now the night-fill manager and part-time duty manager at Coles Cambridge Gardens.
Ms Chadevski has been working at Coles from 16 years of age, when she began as a cashier.
She has now held numerous departmental management positions and now works as the Mix Apparel team leader in the Cambridge Gardens store, where she has been for the last few years.
Ms Green is thrilled to be sharing her 20-year milestone with these colleagues.
Each team member will be celebrating their anniversary with afternoon teas, celebratory cakes and commemorative gifts.
– Katherine Tweed