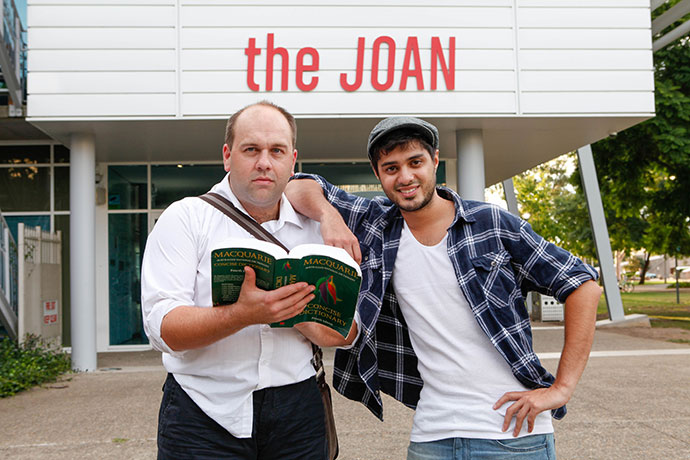 The Penrith Musical Comedy Company has been bringing quality musical theatre to Penrith for decades now, and 2015 is set to be another great season.
The Sydney premiere of 'In The Heights' will be the company's first show for the 2015 season.
The production was nominated for a massive 13 Tony Awards in 2008 and ended up taking out Best Musical, Best Original Score, Best Choreography and Best Orchestrations.
Local audiences will have the chance to check out this amazing production when it hits the Richard Bonynge Concert Hall at The Joan for five performances running from Friday, May 1 to Saturday, May 9.
"'In The Heights' is a rap, hip hop and salsa infused Latin musical," explains Penrith Musical Comedy Company President Grant Jones.
The show is set over three days and follows a cast of characters in the predominantly Dominican-American neighbourhood of Washington Heights in New York where bodega owner Usnavi (played by Stefan Jamal, pictured above right) is chasing the American Dream.
Grant first had the opportunity to see 'In The Heights' after winning the chance to purchase cheap front row seats for the Broadway production in New York.
"I was fortunate enough to win one of those tickets and I fell in love with the show," he said.
"It's just an amazing, amazing show. Very different to most musicals.
"Once I saw it I absolutely loved it and hoped that one day it would be out here and, luckily enough, seven years later it was and we're able to put it on."
'In The Heights' is currently in its rehearsal stage and Grant admits he is excited for audiences to witness the up and coming talent that's involved in the production.
"The rehearsals are going really well. We have such a fantastic cast and such raw new talent that we haven't seen on the Penrith stage before which is really good," he said.
Theatre goers will be happy to hear that 'The 25th Annual Putnam County Spelling Bee' will also be making a return this year.
This hilarious show will run for eight performances in July and August after becoming a hit with audiences in 2014.
'The 25th Annual Putnam County Spelling Bee', as the name suggests, is set around a group of students taking part in a spelling bee but as Grant explains it's the audience participation that really sets the show apart.
"People can sign up and be part of the show as four spellers which is pretty funny," he said.
"Actors actually move them and whisper instructions to them throughout the show so it's quite an interesting concept when you've got the spellers in there as well.
"It actually is a spelling bee and we do spell and you get out if you spell the word wrong. It's a fun interactive show that's like a hidden gem, it's a really, really good show."
'The 25th Annual Putnam County Spelling Bee' will run in the 100 seat Allan Mullins Hall at The Joan which will offer audiences an intimate theatre experience. Grant (pictured left) is playing William Barfee in the production.
Musical theatre is clearly a favourite with Australian theatre goers, you only have to look at the success of recent productions like 'Wicked', 'The Lion King' and 'Les Miserables' to see evidence of the love Australians have for the genre.
Grant's theory on the success of musical theatre is that it offers audiences a break from reality.
"I think it's a bit of escapism," he said.
"People can go out, be entertained and sometimes for cheaper than the cost of a movie ticket."
Speaking to Grant it's clear that he and the rest of the company have a strong passion for musical theatre.
This passion for what they do is part of the reason why the company has lasted for almost four decades.
"Everyone's got their day jobs and just love performing therefore everyone's there because they love it. That's the big thing," he said.
"That would be the biggest highlight I think, that we're all doing it because we have this passion to perform, and it's an outlet to perform."
With the upcoming premiere of 'In The Heights' and the return of 'The 25th Annual Putnam County Spelling Bee', Grant is very much looking forward to the year ahead.
"We're very excited," he said.
"This season's going to be a fun season. and one to remember!"
For more information on Penrith Musical Comedy Company visit www.pmcc.org.au or www.facebook.com/PMCCInc. Tickets to 'Into The Heights' are $20-$35. To make a booking visit www.thejoan.com.au or call 4723 7600.
– Kate Reid