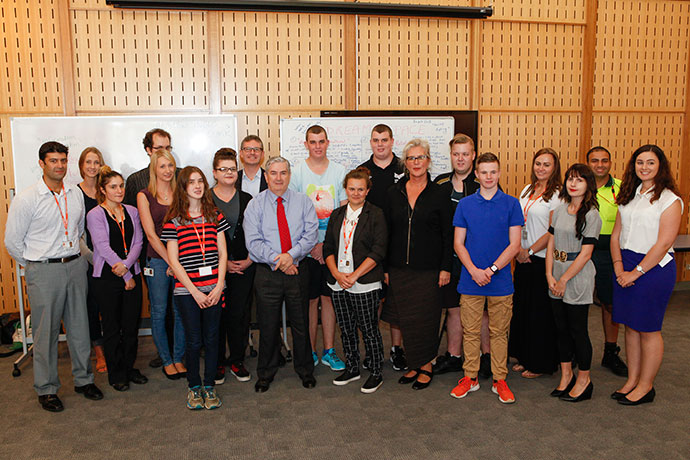 A group of diverse young leaders voiced their opinions on our growing city on Monday in the first Inglis Clarke Circle event in Australia, hosted by Penrith Council.

16 young leaders from western Sydney teamed up in pairs at Penrith Library's Theatrette to debate on topical issues and come up with their own 21st century answers to age old questions, Australia's values and the future of the country.
The Inglis Clarke Circle, named after the author of Australia's constitution Andrew Inglis Clark, is a series of events that aim to replicate Inglis Clarke's 1890s 'salons' that he held around the world to deliberate with diverse people in designing our country's future.
The Inglis Clarke Circle was facilitated by diplomat David Morris and Director of Kapacity.org, Natasha Circa, who have both previously worked on similar projects internationally.
Ms Cica spoke to the group about cultural diversity and how to tackle it, "about what their values are as people of Penrith, but also Australian and also really as humans in that larger sense."
"My impression of your community is that there's a really genuine, really deep understanding of what all those buzz words are – tolerance, diversity, respect," she said.
Young leaders addressed the issue of unawareness as a driver for preconceived racial and cultural stereotypes, and suggested to focus on exposing people to other cultures through physical experiences through schools.
They were questioned about their ideas and how to become a leader, with one young leader suggesting you can "become a leader through expressing your views."
Councillor Ross Fowler addressed the group and spoke about why he began as a leader in the community,
"When I was younger, my father said to me that you're living out of the community, so you should put something back," he said.
Council said the "21st century Inglis Clarke Circle is about how young leaders can be empowered in diverse communities to join together and find creative and innovative solutions to what divides us."