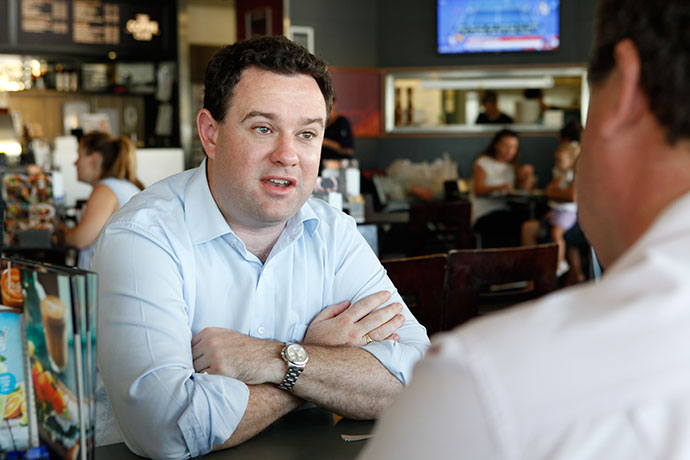 Despite federal issues dominating the political discussion in Australia, State Penrith MP Stuart Ayres has declared it's "game on" for the March 28 State Election as he readies for battle against Labor's Emma Husar and veteran Jackie Kelly, who is standing as an Independent in the seat.

On numbers alone, Mr Ayres holds the seat of Penrith comfortably. He claimed it by a mammoth margin in the wake of the Karyn Paluzzano scandal at a by-election in 2010 and was returned comfortably in 2011.
But as the Queensland election last weekend showed, nobody is safe when it comes to a voting public that has never been more ruthless or willing to swing
the axe.
In an extended sit-down interview with the Weekender, Mr Ayres spoke openly about his tenure as Penrith MP and his plans for the future.
On the March 28 election
"It's definitely game on now. The focus is very much on communicating to the people of Penrith and more broadly NSW our really clear plan to continue the work that we've done," Mr Ayres said.
"I often feel like we've built a really solid foundation, but now's the time to build a house.
"All of the things that we needed to do –repair the State's Budget, start to look after vulnerable people, turn the infrastructure dollars into real activity – is happening, and we want to really see those projects through and then get into the next wave of things as well."
On Barry O'Farrell
"I obviously had a very close relationship with Barry and did a lot of work through the by-election with him, so to lose a leader is never an easy thing, but the transition… has a lot to do with the fact that the core of our government was really strong," Mr Ayres said.
"We're a government that's focused on the key issues of health, education, law and order and infrastructure, and I think that meant that even though we changed the leader, none of the key portfolios really missed a beat and that allowed people to establish confidence in the new leadership."
On Mike Baird
"I think he's just a natural – a natural leader, a natural bloke," Mr Ayres said.
"He's as comfortable in the Board room of a major bank as he is in the front bar of the Australian Arms Hotel in High Street, Penrith. I think that's the type of person that NSW is looking for. He's incredibly intelligent and he inspires you to work hard."
On Victoria Bridge
"It was always going to be a difficult build – the river has a unique topography, we had heritage issues, gas lines and a fire that nobody expected that probably cost us between six and nine months, we would be well into the construction phase right now had the Log Cabin fire not happened," he said.
"Overwhelmingly I get nothing but positive messages. There have always been people who have questioned design and the layout and people in close proximity to the bridge who are having their general environment change, but I have very very strong support for a safe pedestrian crossing.
"We'll get to the construction definitely in the first half of this year."
Mr Ayres points out that a lot of the construction work will be done off-site with large sections of the bridge transported to the location.
On Bart Bassett and ICAC
"From my perspective, we haven't really been too focused on that in these three seats (Penrith, Mulgoa and Londonderry) and the main reason for that is that Bart had already made a decision that he was going to contest another seat anyhow," Mr Ayres said.
"We very early made the decision to pre-select a candidate [in Londonderry] – Bernard Bratusa put his hand up and pretty much from that day our focus has been Tanya Davies, Stuart Ayres and Bernard Bratusa working as a team together to make sure that the broad Penrith region all gets the focus and attention it deserves."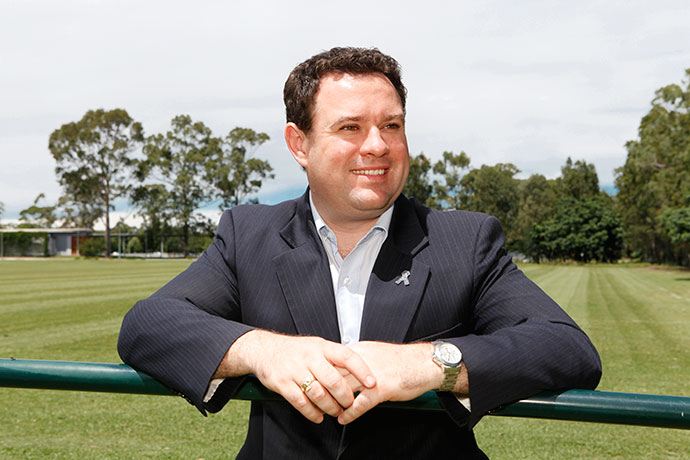 On juggling his ministerial roles with his Penrith duties
"It's always been Penrith first," he said.
"The people of Penrith elected me to the Parliament to represent them and I've never wavered or deviated from that. I've been incredibly privileged to be able to advance into the cabinet, but I think that's been Penrith's win. I sit around that table thinking that I'm Penrith sitting around the Cabinet table, I don't consider it as Stuart Ayres sitting there.
"This election will still be decided on local issues."
On electricity privatisation
"The work we want to do around electricity does two things," Mr Ayres said.
"It allows us to reinvest the value of the electricity network that we're leasing into much needed infrastructure.
"The other message is the really clear message around network costs. Electricity leasing is not just about infrastructure, it's about cheaper electricity prices."
Mr Ayres points to Victoria as a positive example of successful privatisation.
On why you should vote for him
"We've repaired the NSW economy – we were last, now we're first. The opportunity for young people to get a job in this state is significantly better than what it was under Labor," he said.
"We've got a clear plan for how we can invest and improve people's daily lives, whether it's investments in health, making our schools better, or making our roads and transport better. We've got a plan – we know what we're going to invest in and we know how we're going to fund it.
"I think that's a contrast to the other side that I don't think is ready to govern yet. I don't think they've demonstrated that they've got the capability or the skillset to do that, and I don't think they've got a funded plan."