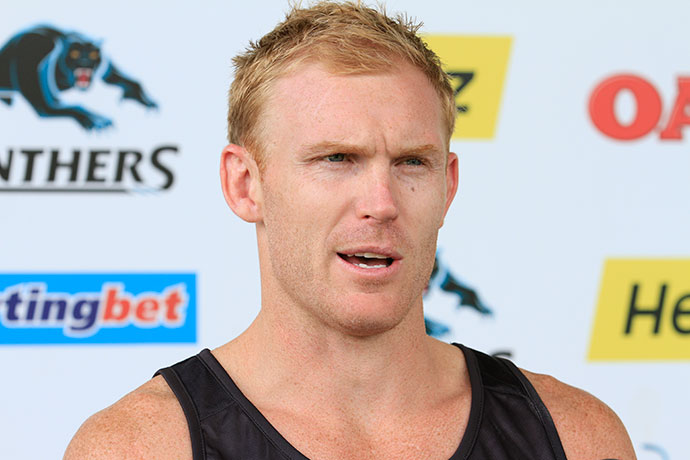 Penrith Panthers halfback and captain Peter Wallace is on the last couple of miles of his road to recovery and has earmarked the club's final pre-season trial against Parramatta on February 21 as his comeback game.

Wallace's season was cut short in 2014 after he suffered a devastating knee injury during Penrith's shock loss to the Cronulla Sharks in chilly Bathurst last July.
Fortunately for fans and his teammates, Wallace's return is inching closer and the 29-year-old is doing everything he can to be right for what's expected to be a huge season ahead.
"I'm going alright… I did pretty much the whole session today bar a bit of contact stuff," Wallace said on Tuesday morning.
"I've made sure I've done everything in rehab to make sure it's (knee) strong. Everything is on track and the Parramatta trial is the goal, at this stage."
Wallace's courage was on full display when he ruptured his anterior cruciate ligament in his right knee last year, playing out the rest of the Sharks game hobbling on one leg.
After learning of Wallace's injury, Panthers coach Ivan Cleary labelled it as one of the "toughest performances" he'd ever seen. However, due to the nature of Wallace's injury, his recovery wasn't as smooth sailing as he would've liked.
"It was a bit slow at the start but that was expected. The kind of surgery I had was I had a patellar graft put in, so the recovery from that is generally a little bit slower than the other type," Wallace revealed.
"I now just have to make sure that I'm not doing too much and just sort of train within myself. There's still two months to go before we start playing. I just need to build up to full training and I should be right."
The Panthers returned to pre-season training this week after spending three weeks away enjoying the Christmas break. Wallace said he's loving being back alongside halves partner Jamie Soward again and is looking forwarding to re-igniting their devastating combination.
"Jamie Soward is great… his back half of the year was outstanding. I'm really looking forward to working with him again and hopefully pick up where we left off," he said.
"We gelled pretty quick last year and it was the first time today we had a run as a team. It felt pretty good, slotted straight back in."