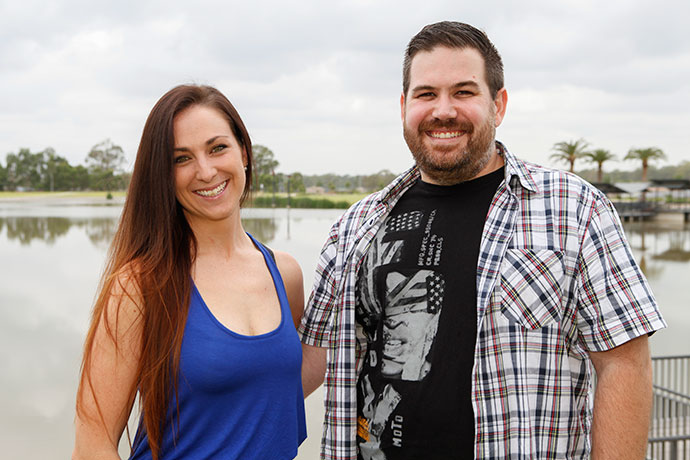 A selfless Penrith couple are packing up and flying to the tiny African nation of Uganda to build the first children's home in a small community known as Hope.

For a month in April, Katie Tassone-Milligan and husband Ben Milligan are heading to the small town of Mityana, with not-for profit group 100% hOPE.
"I've been involved with charities in Africa since primary school, but I was really disappointed with the amount of admin fees that would go with most of the charities, so I had some time where I was a bit disillusioned and hadn't been sponsoring," Mrs Tassone-Milligan said.
"Recently I was introduced to 100% hOPE where 100 per cent of funds go to the allocated project."
Mrs Tassone-Milligan said she jumped at the chance to go over there.
"I think Ben was a little bit shocked when I came home and said 'I'm going to Uganda'," she said.
Mr Milligan admits it's something very much out of the couple's comfort zone but wasn't too concerned for their safety.
"Like any travel there is concern for safety, but we are going with a group of people and with someone who lives in the area. It's not something that everyone has the chance to do and we are really lucky we have this opportunity," Mr Milligan said.
The couple sponsor two children in Uganda and said they regularly receive letters and report cards from both the children and charity.
"We get statements that come back and show where our funds have been allocated directly in relation to that child's cost," Mrs Tassone-Milligan said.
This is the first time the charity has undertaken the project, named 'Journey of hOPE', with the whole construction expected to cost $60,000.
"Each person needs to raise $3000 each, but Ben and I have pledged to raise $10,000 by April," Mrs Tassone-Milligan said.
President of 100% hOPE, Kate Wheatland, said since establishment in 2010, 100 per cent of funds donated to the organisation go direct to the ground in Uganda, with no administration deductions.
"100% hOPE survives on the generous donations of others. We have annual events for fundraising such as a fundraising dinner, giving challenge and a fun run," she said.
Ms Wheatland added that this will be an annual trip, however, volunteers are welcome to come to 100% hOPE at any time throughout the year.